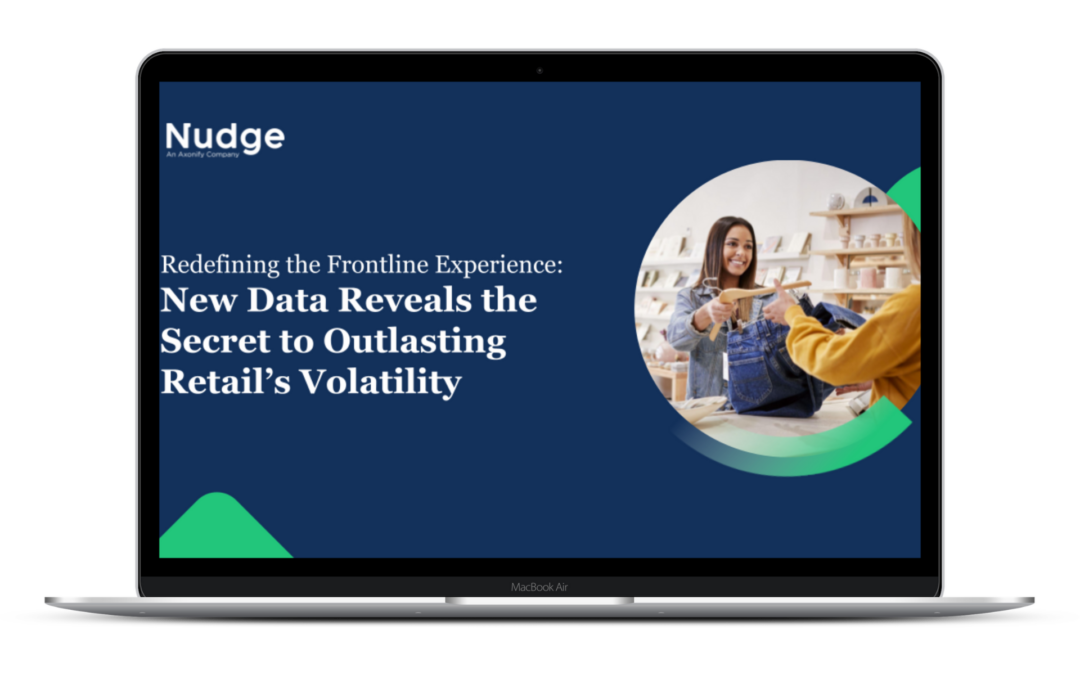 Redefining the Frontline Experience:
New Data Reveals the Secret to Outlasting Retail's Volatility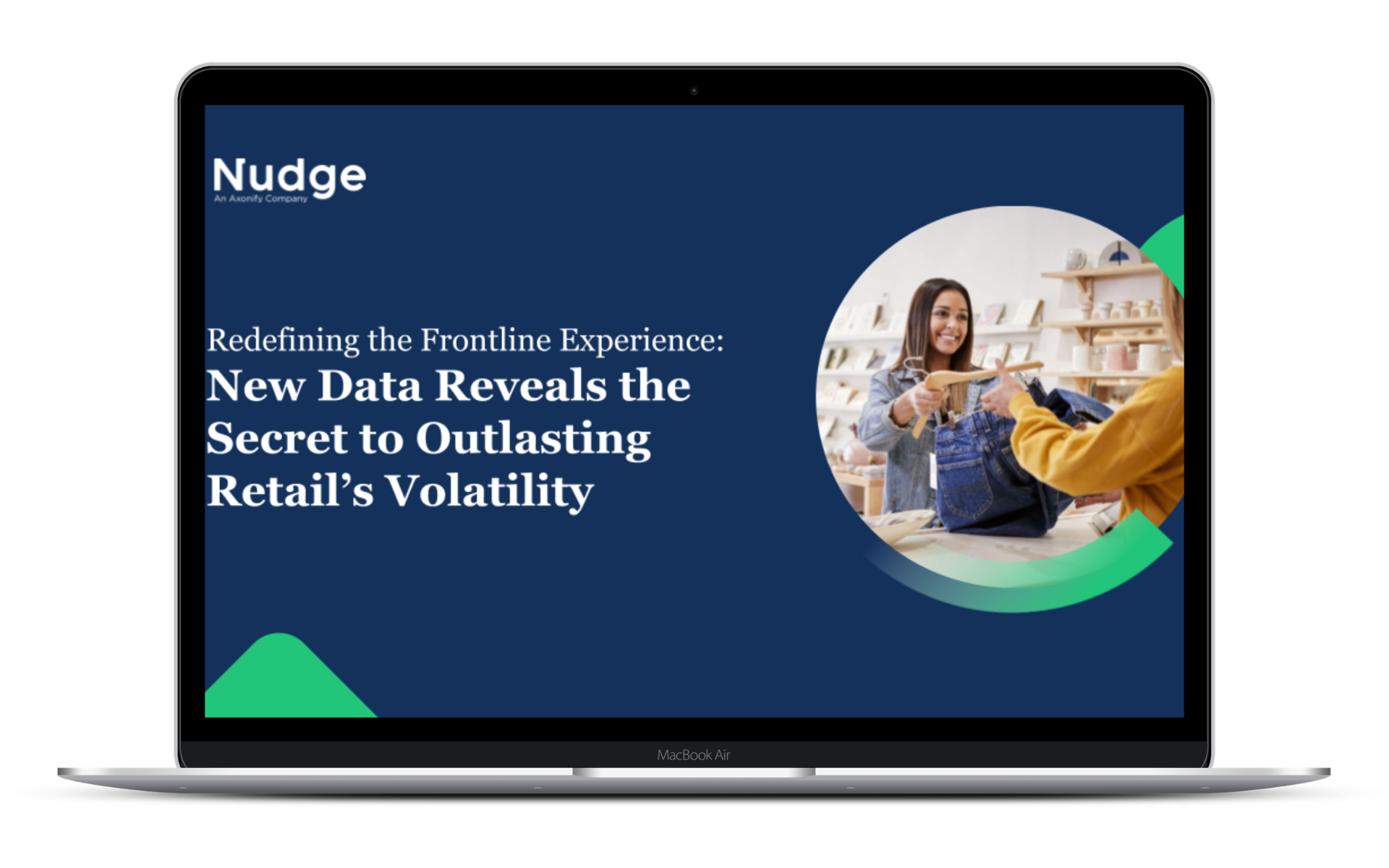 There are many things that retailers can't control: economic volatility, supply chain constraints, the list goes on. But what leaders and managers
can
control is the way they enable and support their frontline staff to drive the business outcomes retailers need – and the memorable experiences in-store shoppers want.  
During this webinar, we reveal new findings from Nudge's annual Deskless Report: Retail Edition, which aggregates insights from managers, workers, and frontline leaders. Get the latest retail-specific data on the critical intermediary role of managers, and what drives associates to perform  — and how both can impact the disruptions facing retailers today.

Watch this on-demand webinar to learn how you can apply these findings to:
Redefine and reimagine the frontline employee experience

Address key disruptors, like burnout and absenteeism

Explore the future of frontline enablement technology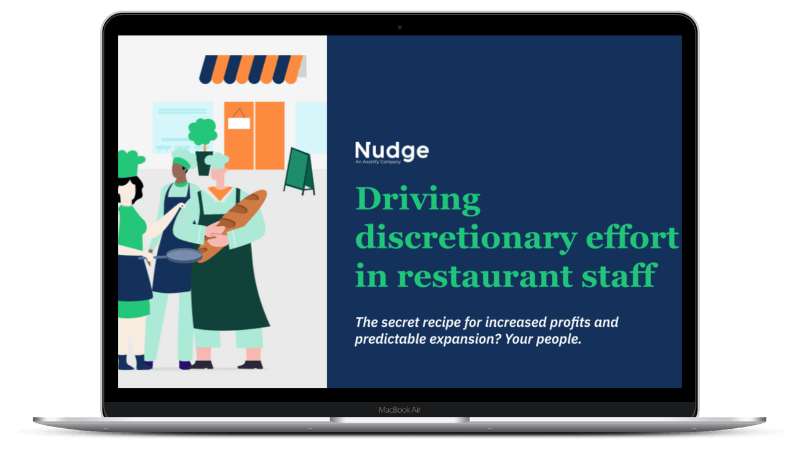 Driving discretionary effort in restaurant staff
What's the secret recipe for increased profits and predictable expansion? Your people.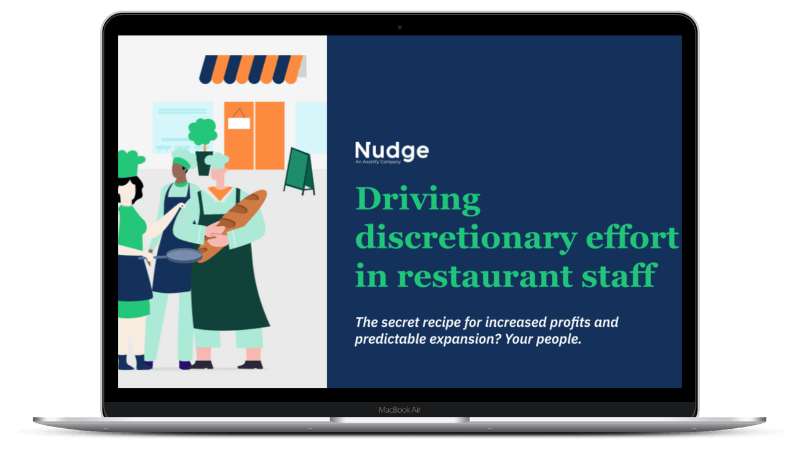 The post-covid rebuild stage has led to a slew of new challenges: Supply chain delays and shortages, rising food and menu prices, changing guest expectations – all of which are seriously exacerbated by labor market staffing challenges.
But the solution lies in your staff. If you can retain and inspire, they're going to help you control costs and improve operational efficiency. They're going to help you keep labor costs down by avoiding voluntary turnover and morale concerns. They're going to help you achieve more predictable successes as franchising and acquisitions hit an all-time high.
But first you need to inspire, align, and enable them to do so.
This on-demand webinar will share the secret to driving the discretionary effort foodservice organizations need to rebuild – and grow. Nudge COO Jordan Ekers will be joined by Axonify Chief Learning Architect, JD Dillon, to explore how effective frontline training, communication, community-building, and much more can drive the business outcomes every organization desperately needs.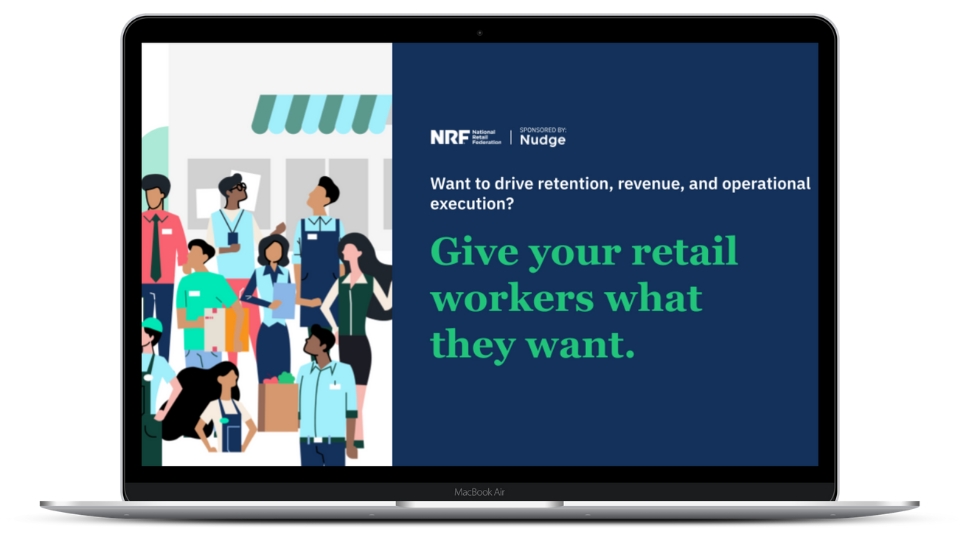 Want to drive retention, revenue, and operational execution?
Give your retail workers what they want.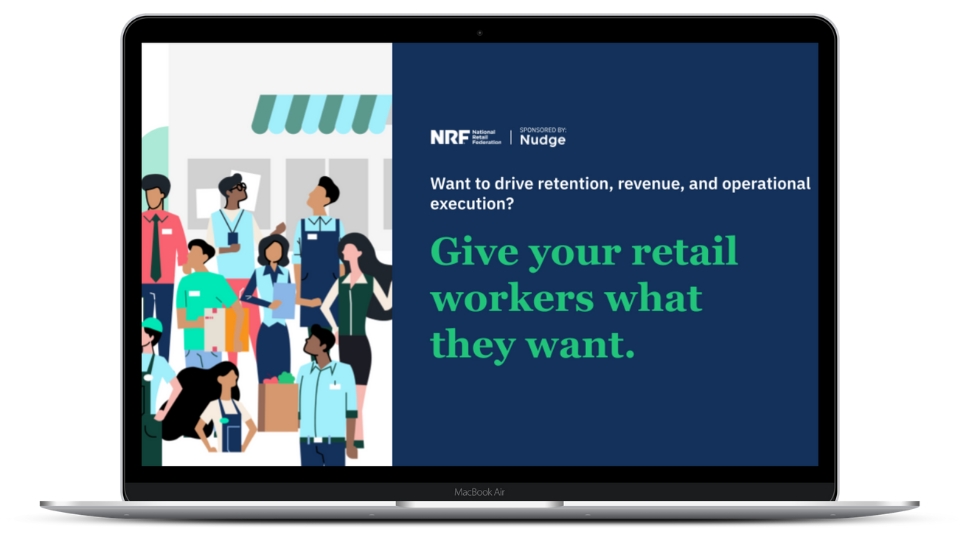 Long gone are the days when Employee Experience (EX) was just an HR play. Giving your frontline workers what they want – and need – to thrive at work is a clear path to better efficiency, performance, execution, and more. 
This is the on-demand webinar every retailer needs to watch. Nudge brings together exclusive market research, real-world examples, and a decade of experience working with top retail brands to answer this critical question: what do retail workers want? Nudge COO Jordan Ekers is joined by Tania Walsh, Manager of Digital Communications Strategy at Telus, and Kathryn Williams, Manager of Retail Communications at Michael Kors to explore what initiatives and programs to implement to drive the discretionary effort every retailer needs.  
Watch this webinar to learn:
Why retailers need to tap into the needs and wants of their workforce

Why workers crave a sense of purpose at work – and how to bake that into your EX

The importance of employee community and DE&I programs

How effective employee communication ties it all together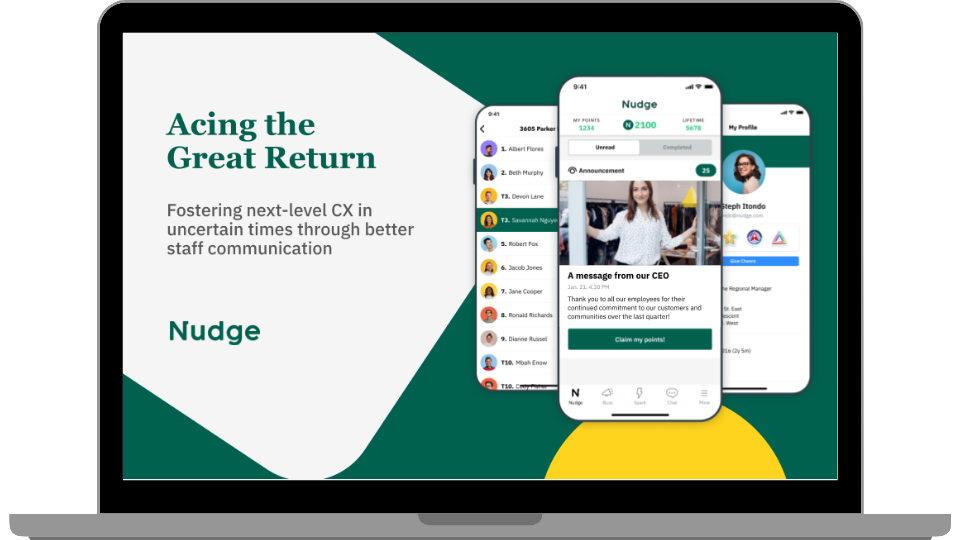 Acing the Great Return
 Fostering next-level CX in uncertain times through better staff communication.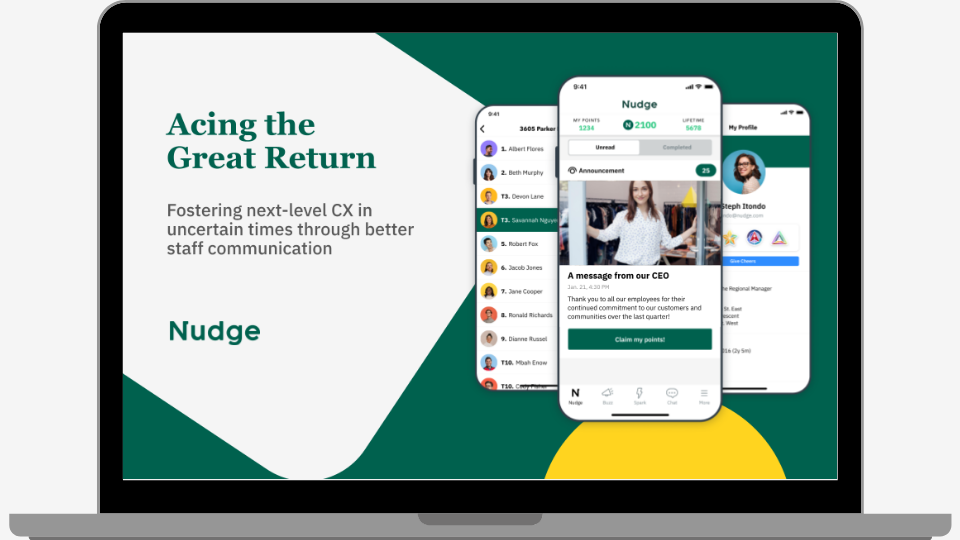 Now more than ever, retailers are looking to stay profitable and resilient by elevating the all-important customer experience. But in these uncertain times, so much change in the physical retail space has made it difficult to focus on meaningful – and consistent – customer interactions, not to mention bridging the gap between physical and digital experiences.
The secret to nailing the Great Return? Investing in your frontline communications and feedback loop. Your associates have a critical role to play in enhancing the customer experience – and helping your organization stay agile and responsive by tapping into your consumers' expectations, attitudes, and behaviors.
Learn from Rachel Huckle, the Chief Retail Officer at Staples Canada and Nudge's COO, Jordan Ekers on how you can help your organization stay agile and responsive in uncertain times by fostering next-level CX.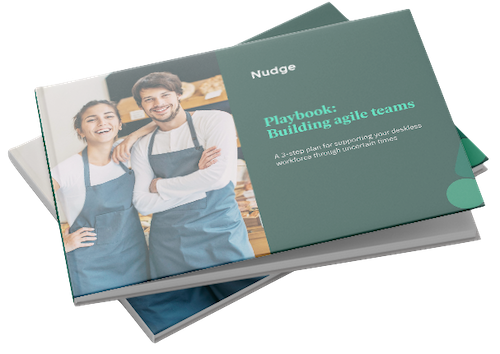 Building agile teams:
3-step playbook
Support your deskless workforce through uncertain times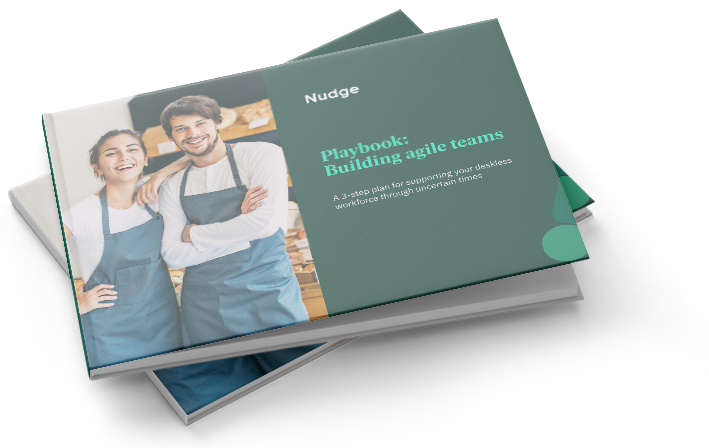 With new safety protocols, sudden closures, unprecedented consumer behavior, and countless more challenges, it has never been more crucial for organizations to stay agile and adaptive to the changing world. Your workforce is a critical part of that process. But to lift your organization up through times of uncertainty, your workforce needs leadership – and, unfortunately, they might not be getting it. This three-phase plan gives you everything you need to support your deskless workforce through uncertain times.
Download the playbook to get:
6 foolproof ways to cultivate employee engagement

Understanding preparedness, and what prioritizing preparedness looks like

3 workforce success metrics every organization should be tracking