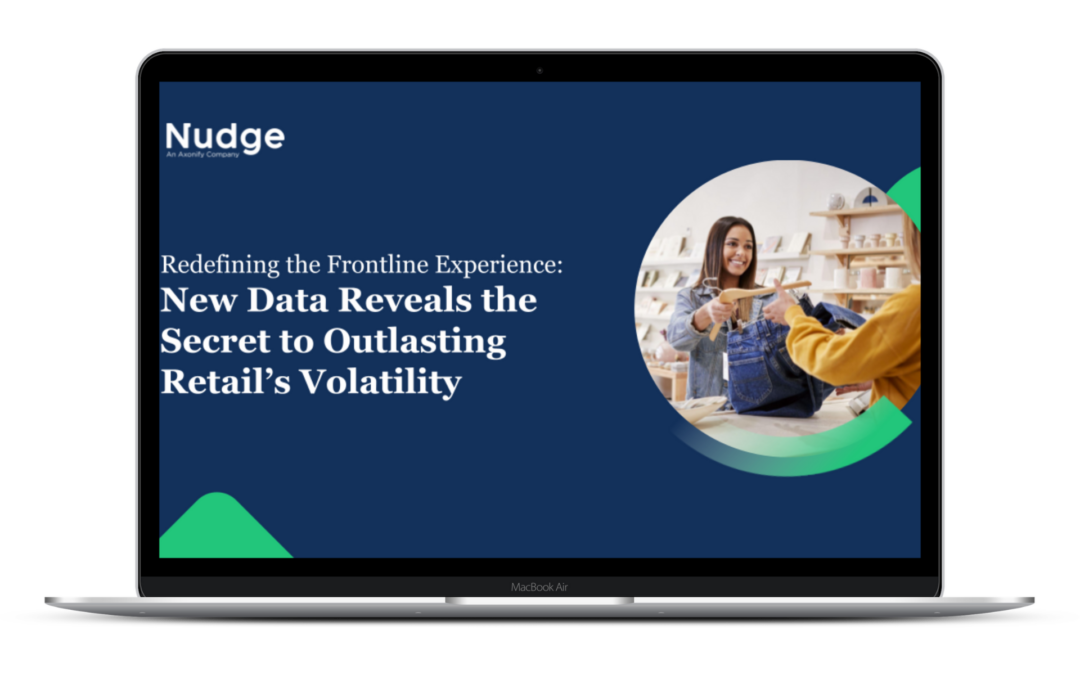 Redefining the Frontline Experience:
New Data Reveals the Secret to Outlasting Retail's Volatility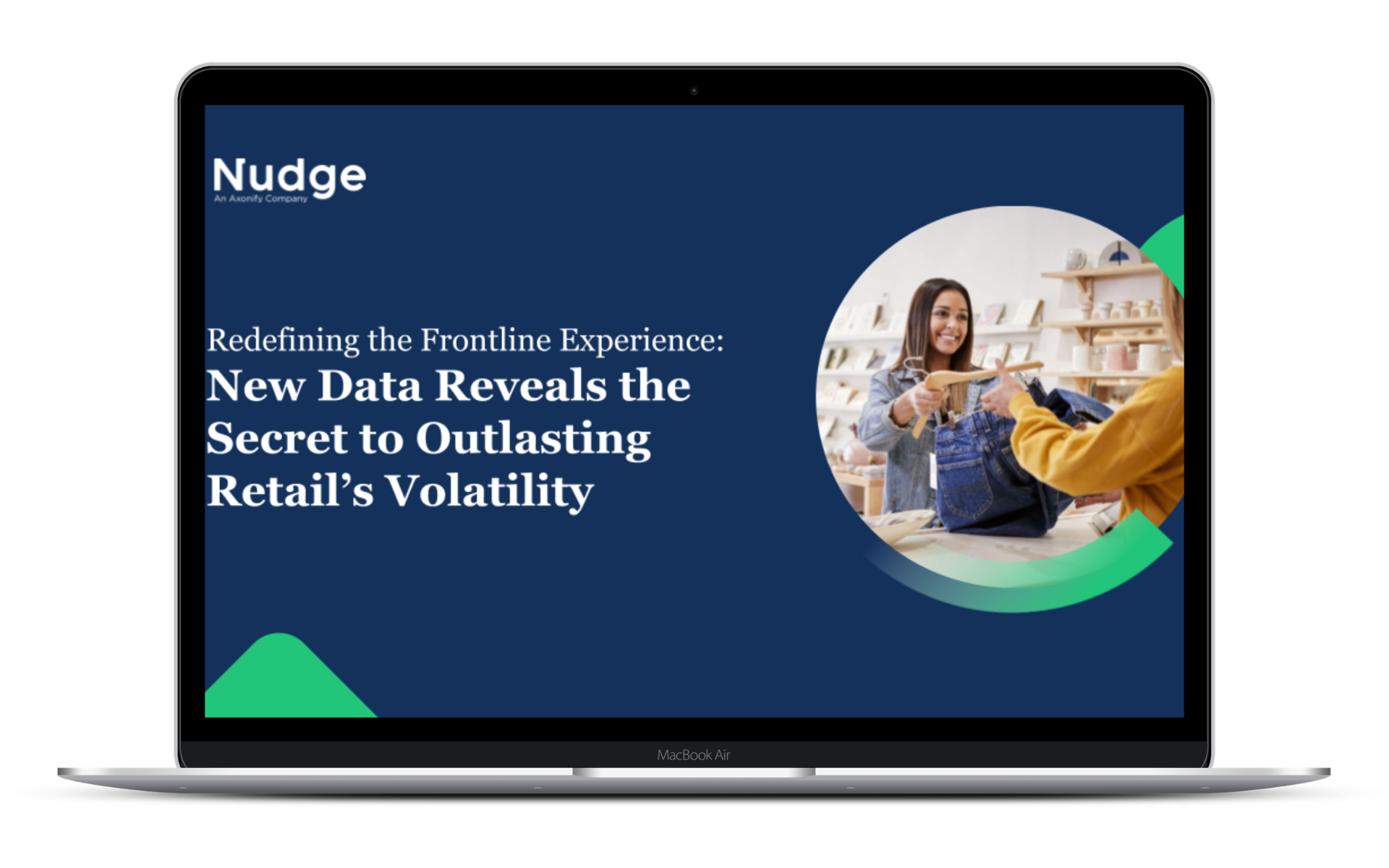 There are many things that retailers can't control: economic volatility, supply chain constraints, the list goes on. But what leaders and managers
can
control is the way they enable and support their frontline staff to drive the business outcomes retailers need – and the memorable experiences in-store shoppers want.  
During this webinar, we reveal new findings from Nudge's annual Deskless Report: Retail Edition, which aggregates insights from managers, workers, and frontline leaders. Get the latest retail-specific data on the critical intermediary role of managers, and what drives associates to perform  — and how both can impact the disruptions facing retailers today.

Watch this on-demand webinar to learn how you can apply these findings to:
Redefine and reimagine the frontline employee experience

Address key disruptors, like burnout and absenteeism

Explore the future of frontline enablement technology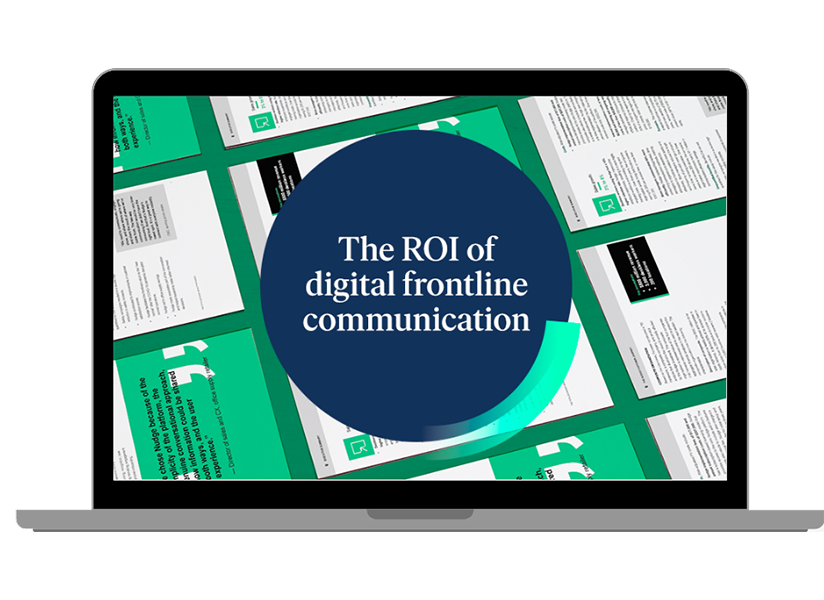 PRESENTED BY NUDGE & FEATURING FORRESTER
The ROI of digital frontline communication
How effective frontline communication can deliver tangible outcomes.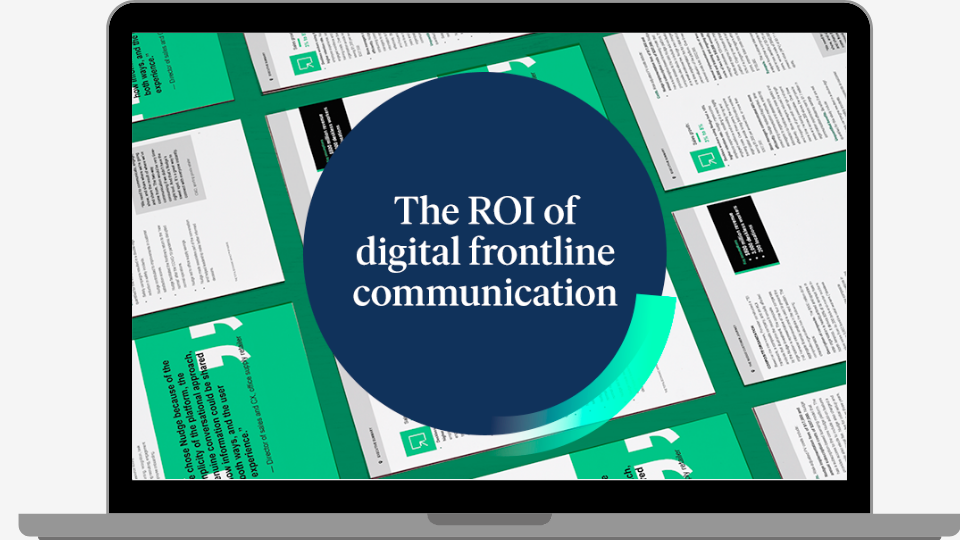 As we navigate out of these unforeseen times into a new normal, frontline and deskless organizations need to continue to support their workforce. And that support starts with the technology that enables organizations to share real-time info and collect in-the-moment feedback from their most valuable asset: their employees. 
In this two-part webinar, guest speaker, Forrester Senior Consultant Veronica Iles walks through Nudge's recently commissioned Total Economic Impact™ Study, conducted by Forrester Consulting, to dive deeper into Forrester's findings, which included a three-year ROI of 484%. Then, Nudge COO Jordan Ekers and our guest speaker, Forrester Senior Analyst of Digital Commerce, Scott Compton, discuss the trending challenges facing the frontline, and the role that technology can play in bringing these organizations into the "new normal." 
Watch this webinar today to see how effective frontline communication can deliver tangible outcomes across your organization.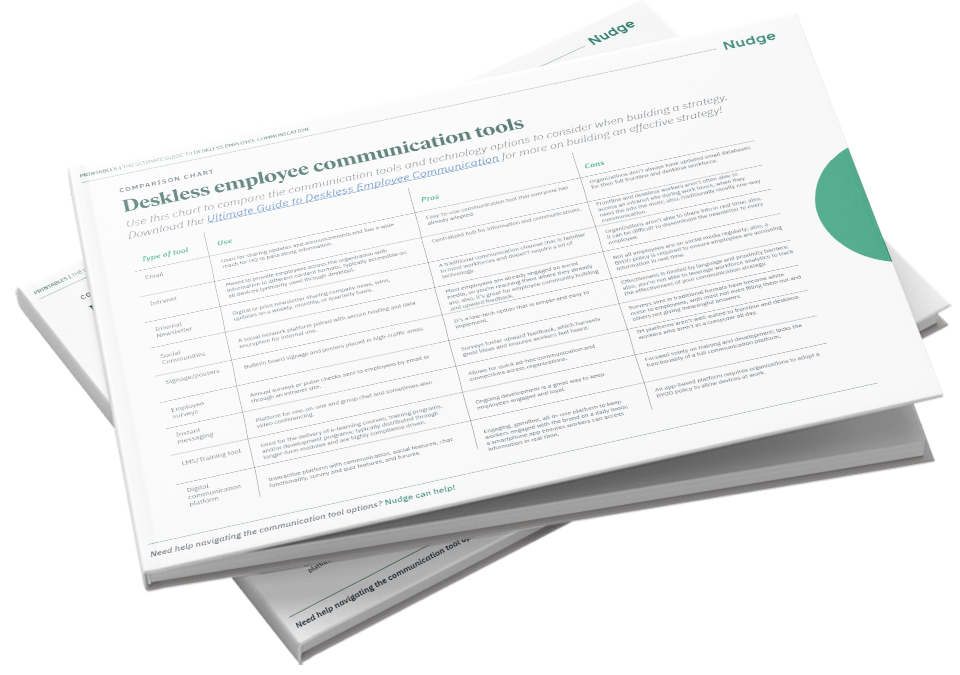 Communications Tools Comparison Chart
Compare the communication tools and technology options to consider when building a strategy.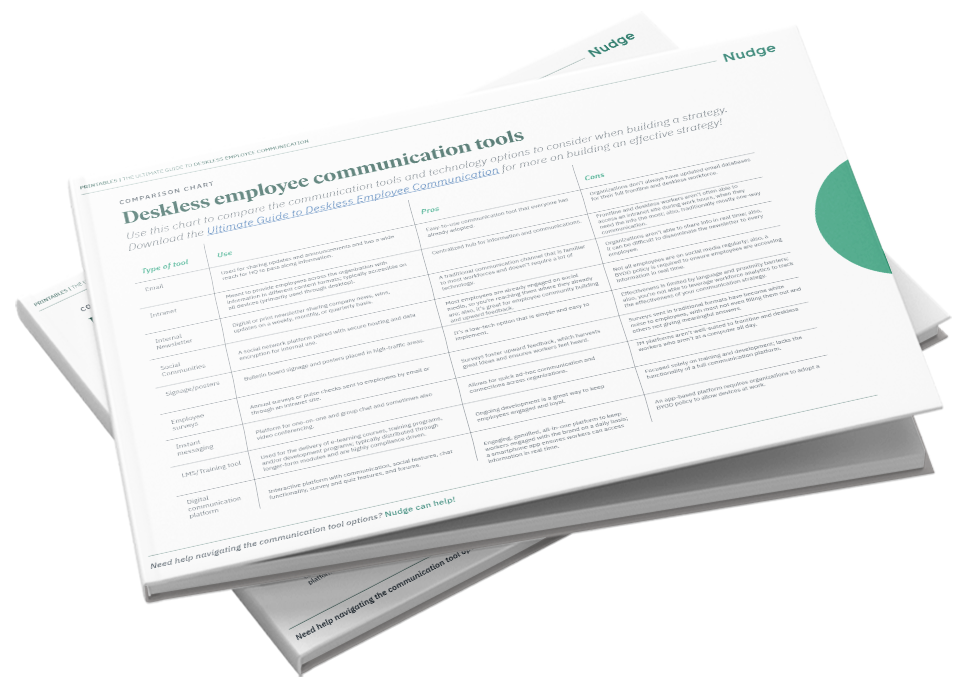 Communication channels and tools are a huge component of a deskless employee communication strategy. One of the biggest mistakes that organizations make is assuming they can share information with these workforces in the same way they would communicate with office or deskbound employees. Frontline workers require a much different approach to ensure that information is being shared when and where they need it. 
But what tools and channels are right for your organization? Our communication tool comparison chart will help you weigh your options. This chart outlines the top nine communication tool types, complete with pros and cons for each.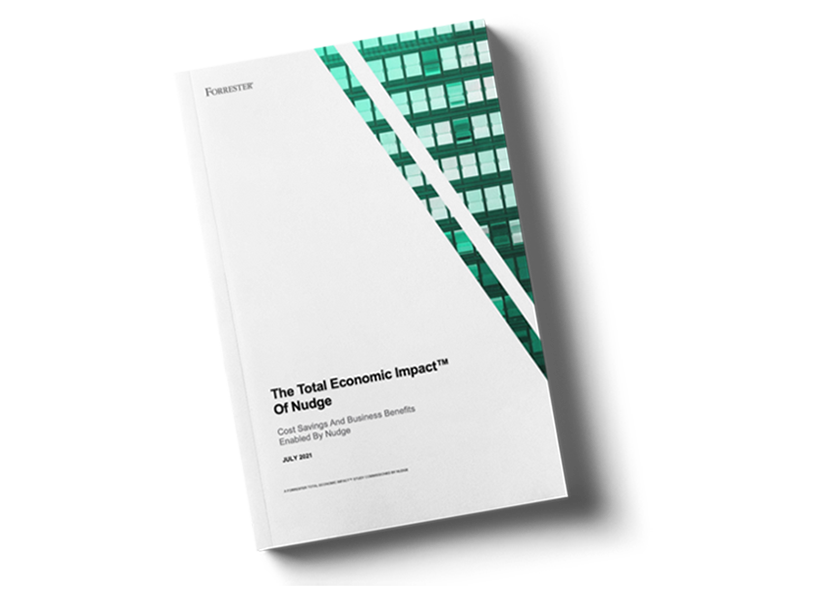 The Total Economic Impact™ of Nudge
Download Forrester Consulting's Total Economic Impact™ Study to see how Nudge delivers 484% in ROI!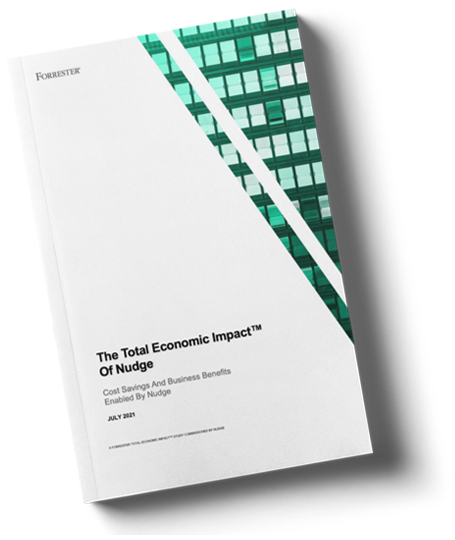 The quantified benefits that Forrester identified in this Nudge-commissioned Total Economic Impact™ study are: 
A 3-5% increase in same store sales:

education and readiness campaigns improved associate confidence and their ability to recommend, cross-sell, and upsell. 

A 10% higher retention rate for deskless workers:

improvements in the employee experience lead to a more engaged workforce and less turnover. 

60% more efficient communication between store managers and frontline

: replacing fragmented, time-consuming communication channels led to quicker and more effective communication, and shorter pre-shift meetings. 
The results? A three-year 484% return on investment.
Download the study to see the full calculations and key findings. 
For its Total Economic Impact™ study, Forrester interviewed four Nudge customers in the retail and foodservice industries to understand the costs and benefits associated with the investment. The key challenges that Forrester found Nudge solves for are: 
Diluted and inconsistent communication

to the frontline

Low employee engagement leading to

high turnover

COVID-19 driving the

need for agile change

and timely communication 

Store

managers overwhelmed

by communication with head office

Legacy one-way communication

channels lack analytics

or real-time insights
Want to learn more? Download the study today!