The Total Economic Impact™ of Nudge
Download Forrester Consulting's Total Economic Impact™ Study to see how Nudge delivers 484% in ROI!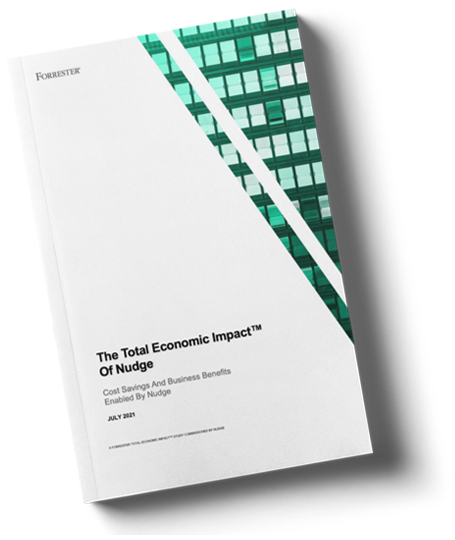 The quantified benefits that Forrester identified in this Nudge-commissioned Total Economic Impact™ study are: 
A 3-5% increase in same store sales:

education and readiness campaigns improved associate confidence and their ability to recommend, cross-sell, and upsell. 

A 10% higher retention rate for deskless workers:

improvements in the employee experience lead to a more engaged workforce and less turnover. 

60% more efficient communication between store managers and frontline

: replacing fragmented, time-consuming communication channels led to quicker and more effective communication, and shorter pre-shift meetings. 
The results? A three-year 484% return on investment.
Download the study to see the full calculations and key findings. 
For its Total Economic Impact™ study, Forrester interviewed four Nudge customers in the retail and foodservice industries to understand the costs and benefits associated with the investment. The key challenges that Forrester found Nudge solves for are: 
Diluted and inconsistent communication

to the frontline

Low employee engagement leading to

high turnover

COVID-19 driving the

need for agile change

and timely communication 

Store

managers overwhelmed

by communication with head office

Legacy one-way communication

channels lack analytics

or real-time insights
Want to learn more? Download the study today!