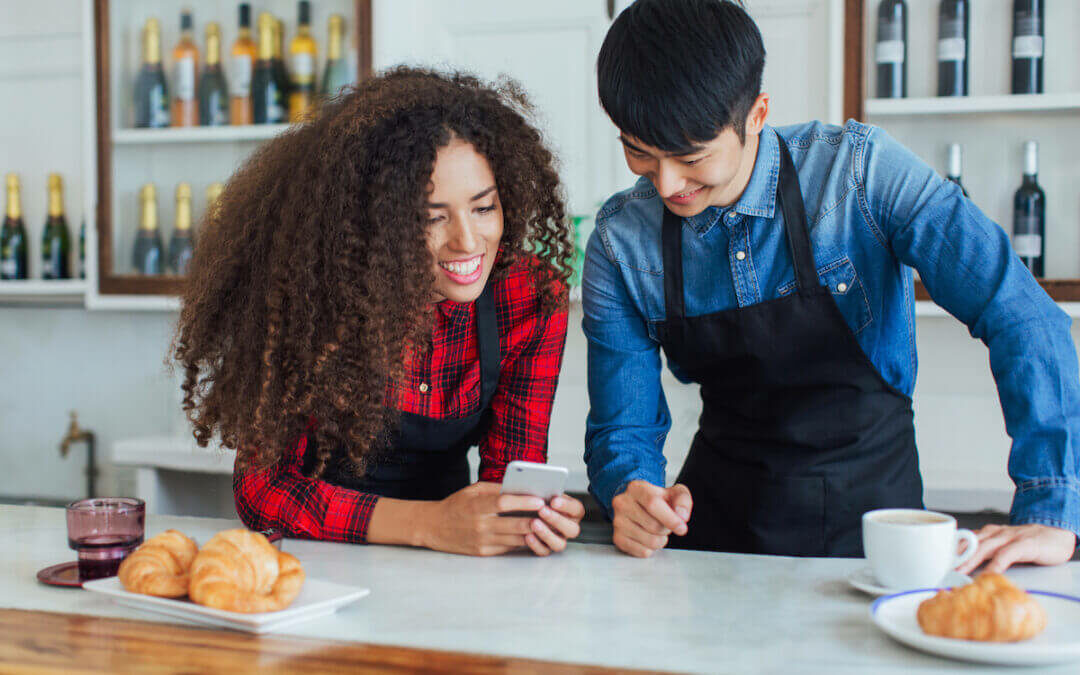 Employee retention is a challenge that every organization faces, but the pandemic, the labor crisis, The Great Resignation and other challenges has put additional strain on frontline organizations trying to stay staffed and keep operations running smoothly. 
According to The Deskless Report, turnover remains the number one challenge facing deskless organizations. 36% of workers polled currently want to quit their jobs – and that number is even higher in retail, foodservice, and facilities management. 
We've explored a lot of the ways that frontline organizations, particularly in retail and foodservice, can engage and retain staff by giving their workers what they want – everything from training and development and DE&I to wellness programs and employee community.  
But it all starts with something more foundational: communication. After all, you can't develop, disseminate, and foster any of the aforementioned programs without a way to communicate them to your workers. But unfortunately, a strong line of communication isn't always in place. According to deskless leaders polled for The Deskless Report, the biggest barrier between head office and frontline workers is communication. 
Which means that a lot of frontline organizations are missing out on a great (and surprisingly easy) way to drive employee retention. 
So today, let's fix that. Here are 6 ways to drive employee retention through effective internal communication. 
Retention tactic #1: Dive into the magical world of gamification
Who doesn't love a good game? A points system can have massive impacts on engagement, brand loyalty, and employee retention – whether or not you implement a rewards program with it. 
The concept of gamification in the workforce isn't anything new. It's simply offering up points for actions that you want to encourage your staff to take, such as answering a survey or quiz, reading an employee memo or watching a training video. And it works. According to TalentLMS's 2019 Gamification at Work survey, using gamification tactics at work makes 88% of employees feel happier and 89% of employees feel more productive. What's more, 87% of employees surveyed said that having "game elements make me feel socially connected and provide a sense of belonging." 
Engaging employees through internal communication and adding an element of gamification requires a few basic components, including goals and badges, transparency, competition, and community. It's also important to ensure walkthroughs and explanations are made available to everyone, so it's a level playing field. 
If you're opting to use rewards, keep in mind that prizes don't always have to have a "traditional" monetary value associated with them. One recommendation from TalentLMS is to offer "small, quality-of-life rewards, like a voucher for a lunch out or an extra day off," that can be awarded in tandem with recognition from senior leadership or head office. 
Retention tactic #2: Meet staff where they already are – their phones
Have we already touched on this? Yes. Is it important? Also, yes. When your workforce is deskless it's important to send communications where your employees will get them. 
A few fun facts from The Deskless Report: whether or not it's permitted, 91% of workers are using their phones at work, with 47% checking their phone 1-2 times per hour. But a whopping 60% of workers said they're using their phones during shifts for, well, work – work-related communication, or finding work-related information.
Another report found that 70% of deskless workers feel that more technology would help them do their jobs better, and 60% are unsatisfied with, or believe there's room for improvement in, the technology they're provided to do their job. 
Workers want to use their phones to do their job, and when organizations don't allow or condone it, it makes it harder for workers to get their job done – and that leads to disengagement, and turnover. 
So the takeaway here: Creating engaging, fun internal communications is important. But when your workforce is deskless it's important to distribute these communications where your employees will get them. And, that's their smartphone. Using smartphones to communicate with your frontline and deskless workers also means you can share information in real-time with them, when it's most relevant to them, especially since they don't typically have access to company emails or intranet sites during their shifts. Bonus: employees using BYOD are proven to actually save time at work. 
Retention tactic #3: Every employee has a story to tell… So tell them!
Deskless workers are often more removed from the corporate setting – and removed from each other. Despite having thousands of coworkers, frontline and deskless employees likely only know a handful of team members, and usually only the ones who work at the same location or on the same shifts. In fact, according to The Deskless report, 60% of frontline workers would like to have a strong community with employees outside their location.  
This is why building an employee community can be an easy win for boosting employee engagement and driving employee retention. And a great way to build an employee community is to bring in their own voices into your communications. This might mean day-in-the-life posts, where employees record their day with video and photos while on the job; it might mean having workers guest-write posts on your communication platform or newsletter; or it might even mean conducting interviews with employees to help the broader community learn more about each other. 
Not only does this kind of internal communication campaign help your staff feel seen and heard – it helps forge relationships between regions, locations, and individual workers that will make them feel more connected and loyal to the company as a whole. 
Retention tactic #4: Use Ask-Me-Anythings (AMAs) to make senior leadership more approachable
In large organizations with thousands of employees, it's easy to forget the type of information that some workers might find valuable. Opening up communication so that everyone can ask questions and address any concerns can mitigate issues before they become bigger. It also provides a chance for head office to become more visible to the frontline workforce and increase that sense of connection and community. 
Enter the wonderful world of ask-me-anythings. Running a senior leadership AMA at your frontline organization is an effective way to learn what employees want to know about, not just what you think they should know about. 
"Do I ever end up squirming up there? Sure. There are plenty of times when I've been caught entirely off-guard. But that's precisely the point. The element of surprise is the secret ingredient that makes the internal AMA such a valuable tool," explains Shopify president Harley Finkelstein, in a Forbers article on why he started a regular AMA with his employees. 
"When your company scales beyond a certain size, it's easy to lose touch with what's relevant for people at different levels of your organization. In this sense, the AMA is a powerful way to collapse corporate hierarchies and ensure that all perspectives — not just those from the top — are heard."
Retention tactic #5: Go interactive with channels for upward communication and feedback
Gathering upward feedback from your team can go a long way to boosting employee morale and strengthening their engagement. Plus, surveys and quizzes have the added benefit of adding an interactive element, which is key for effective internal communication. 
With pointed questions, multiple choice answers as well as open-field options, your deskless workers across the company can feel as though their voice matters and that their feedback and opinions are important to the company's growth. These can identify knowledge gaps that you can fill with future communications, as well as identify opportunities you might not have thought of previously. 
Another benefit is quizzes and surveys allow you to test knowledge rates and identify gaps that need to be addressed either with further communication or more training. It's also a great way to measure readiness and confidence in an open-ended way by taking a temperature check of sorts with your employees, this can go a long way in improving confidence and boosting employee loyalty and retention. 
Retention tactic #6: Focus on task execution and consistency
Think internal communication is just about company updates and HR initiatives? Think again. Forward-thinking frontline organizations use their internal communications to also drive operational consistency and task execution. 
Think about it this way: your staff wants to do their job well. And they don't like it when their role and tasks are too ambiguous. As Dr. Wendi Adair, Professor of Organizational Psychology, puts it in our Q&A on employee communication:

"Information is power. If you have information, it makes you feel capable and able to do what you need to do. It makes you feel able to help other employees. And that gives you a sense of well-being. We talk about it as power, but it's really feelings of capability and competence and confidence. And then on the flip side is when you don't have enough information. So maybe there's something about your role that's ambiguous. You don't know exactly how you're supposed to go about doing a certain procedure or task. Or maybe you have role conflicts – you have different supervisors asking you to attend to different things and you haven't been given clear instructions on how to prioritize. That lack of information leads to feelings of uncertainty. Which leads to stress, and would decrease employees' psychological well-being."
And, of course, no one likes to feel stressed. When a workforce doesn't have a clear sense of roles and tasks, there's a much higher risk for turnover. On the other hand, when organizations leverage a internal communication tool or platform that clearly assigns tasks and reinforces processes (psst… we know of a great one), employee productivity, engagement, and retention will soar. 
—
The more interactive and engaging your communications, the better received they'll be by your frontline staff. And the better they are received, the more of an impact they'll have on your employee retention. It may be a bit more challenging but also very rewarding – for you and them.