The importance of employee training isn't new; nearly every organization in the world has at least some form of training for both new and existing employees. But that doesn't mean it's all effective. Done well, employee training not only educates employees. It also motivates and empowers them. It's the key to an engaged workforce that can perform its roles consistently and confidently.
So, what makes some organizations' training so much more effective (and memorable) than others? And how is poor employee training impacting your morale, turnover, and bottom line? The ultimate guide to frontline employee training is here to help! Read on to learn the benefits of employee training, types to consider, and the methods organizations can use to implement an effective employee training program.
What is employee training?
Let's start with the basics. Employee training is a work program that provides employees with specific knowledge and skills designed to facilitate and improve employees' techniques, performance, and productivity in current and future roles.
Employee training usually begins on the very first day of work. However, it's critical to continue it throughout an employee's journey at your organization – we'll talk more about this below.
Benefits of employee training
Here are a few of the benefits that frontline organizations enjoy when they invest in effective employee training programs.
Employee productivity
It goes without saying that employee training is necessary for developing competent employees who add value to an organization. Increased productivity and efficiency in their roles is a direct result of proper training.
Employee retention
A recent study found that 20% of turnover takes place in the first 45 days of employment, and the number is even higher among 18 to 25 year olds. Research has shown time and time again that organizations with strong onboarding and training improve new hire retention by as much as 82%. Why? When employees feel their organization is investing in their futures rather than just their current roles, they're more likely to invest back in the company with increased loyalty.
Employee engagement
Strong employee training shows your employees you care about their happiness and success at work. And employees who feel valued in this way are more engaged, leading to excitement about their future and growth. And that, again, leads to productivity. One study found that highly-engaged employees are 38% more likely to have above-average productivity. In other words: engaged employees lead to higher quality service and productivity, which leads to higher customer satisfaction, which leads to increased sales and profits.
Less supervision (and fewer accidents!)
This may sound contradictory, but quite the contrary (apologies for the tongue twister!). Employee training provides staff with the knowledge and skills they need to prevent issues and accidents on the job. Plus, well-trained employees are fully aware of protocols, duties, and best practices. As a result, they require less costly supervision, allowing you to allocate these resources elsewhere.
Types of frontline employee training
There are many different types of employee training for different situations and desired outcomes, from onboarding to management development. Here are a few of the most common types.
Training new employees
Onboarding is the most common type of employee training. It's used across industries at all seniority levels. The first 30, 60, and 90 days are crucial to a new hire's success. It's the organization's first and most impactful chance to create a real connection with the employee and set them up to be highly productive ambassadors of your brand. Training new hires is critical in creating a confident, competent frontline or deskless team.
Employee development training
Effective employee training should continue beyond onboarding to encompass an employee's entire time at an organization. This ongoing training is often referred to as employee development. A robust frontline employee development program can increase revenue, consistency, and efficiency while turning your workers into your most valuable asset (which is the case at successful organizations!). Training for staff development engages, informs, and empowers workers to do their best at work, every day.
Cross-training employees
Cross-training employees is the practice of training staff to work in several different roles, or training them to do tasks that lie outside their regular responsibilities. Cross-training allows employees to expand their job skills and knowledge by enabling them to work on new projects and gain the expertise necessary for specialization or a more senior role. Not only does it ensure cross-functionality (so operations are never dependent on specific individuals), it also increases engagement, productivity, and morale by making employees more invested in the operational bigger picture.
Leadership training
Leadership training and development is the process of expanding the capacity of employees to take on leadership roles within an organization. Leadership and management training is typically in the form of specialized programs designed to help employees learn leadership techniques and refine old skills to run a team, including communication, motivation, and coaching. It's critical that every organization have effective leaders to empower and influence your frontline and deskless workforce to achieve business and team goals. Nurturing current employees to become future leaders supports succession planning and offers career pathways to employees, further increasing retention and engagement.
Employee training methods
We'll go deeper into employee training methods specifically suited to frontline organizations below. But first, these training methods are great options to consider for any organization, whether deskbound or deskless.
In-person programs
In-person employee training is the traditional type of training that occurs in a classroom, with an instructor presenting the material. It can be highly effective, especially for complex topics. Instructors can answer specific employee questions or direct them to further resources. In-person training also allows for highly skilled instructors to match the training level and style to the employees in the room.
Virtual classes
Virtual employee training relies on online videos, tests, and courses to deliver information. Employees can do their training from any device – often at a time convenient for them. It's one of the easiest types of employee training to roll out to larger groups, especially for employees who have long commutes or work irregular hours. With interactive games, tests, videos, and activities, virtual training can go a long way toward keeping your employees engaged.
Personalized training programs
Personalized training allows an employee to learn in a customized setting based the approaches that are most effective in addressing their needs. This often means the content and timing are determined by the employee – offering them various tools and methods for learning and bucking one-size-fits-all training. Considering the individual needs of each employee lets them take control over their own learning and career development.
Peer-to-peer learning
A recent study found that 55% of workers turn to their peers first when they have a question. Peer-to-peer learning can be a powerful development tool that breaks through some common barriers to skill-building. Unlike some training methods, peer-to-peer learning creates a space where the learner can feel safe asking questions without a sense that their boss is passing judgment. Employees are more likely to have candid conversations about areas they need to develop with a peer than with someone who has power over their career and income. Peer-to-peer learning also taps into the expertise that already exists in your organization through effective communication and feedback channels.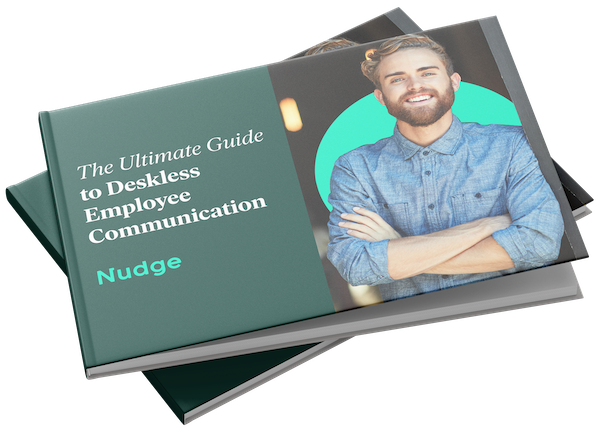 FREE GUIDE:
This 40+ page guide gives you everything you need to audit your existing employee communication, build out a new strategy, and monitor your efforts long-term. Plus: get printable worksheets, templates, and much more!
Frontline employee training methods
Training and educating frontline employees comes with its own unique set of challenges. Below are additional training methods that are specifically applicable to the unique needs of frontline and deskless workforces.
Bite-sized information sharing
Succinct, clear messages delivered through a digital communication app are more impactful and memorable for busy deskless employees. The best part? The information flows both ways. Frontline staff can answer skill-testing questions and share confidence levels directly with managers and head office. Bonus: important, real-time updates to safety protocols or promotions are also much less likely to be missed when shared directly to frontline employees' phones.
Gamified training
Games have long been used for many educational purposes, including employee training. Using a point system to encourage interaction and test knowledge retention is a great way to boost training engagement and add a little competition into the mix.
Trigger-based modules
Using trigger-based training helps ensure you never miss a critical touchpoint. To avoid information overload, deliver training to frontline workers at specific intervals, like every day or once a week. Prioritize the most critical information first. For example, you can schedule important safety training to go out on day one of a new hire's employment, and wait until day four to educate your employees on closing procedures.
On-the-job training
The original training method! It's still popular for good reason. On-the-job training is when employees observe the processes and procedures their employer uses first-hand. No matter how engaging your manuals or classes are, "learning by doing" is arguably the most effective. And pairing it with reference materials and short training prompts means you can ensure standard protocols stay consistent.
Tools to use for frontline employee training
Every organization is unique – and every workforce has different learning needs. Creating the ideal training program for your company will be an ongoing, ever-evolving process. One extremely important factor is tailoring your program to the needs of frontline and deskless workers, who have different needs than in-office employees. And having the right tools is place is a critical part of any frontline employee training program. The technology to have in place will differ depending on the training methods you've chosen, but here are a few options to consider:
Intranet
Use: Online portal to provide employees with information, training materials, reference documents, and more.
Pros: A centralized hub for information and communications.
Cons: As Intranet sites are often accessed via desktop, frontline workers aren't often able to use them during work hours, when they need to access training materials the most.
LMS/training tool
Use: Platform used for delivering e-learning courses and training modules, often with built-in testing.
Pros: Purpose-built platform for training and learning.
Cons: These tools often lack the functionality of a full communication platform, which allow for more bite-size learning and feedback.
Digital communication platform
Use: Interactive digital platform with communication, feedback, execution, and training functionality built in.
Pros: A digital platform makes quick learning and skill-testing easy for frontline workers; an all-in-one tool makes it easy to access information later.
Cons: Organizations may need to adjust their BYOD policies to allow for device use at work.
Tips to fine-tune your program
While there isn't a single program that will meet every organization's needs, there are some common themes and best practices that are applicable to almost all companies:
Personalizing training content and format to suit the needs of each team, region, or individual will help to boost buy-in
Set measurable and attainable training goals that go beyond knowledge retention, such as task execution, workplace safety, and operational consistency
Check in with your staff for honest feedback about what they like about your training program – and what they think could be improved
Make the most of the program over the long term by tracking its performance and continually revisiting your strategy and making adjustments