The first 30, 60, and 90 days are crucial to a new hire. It's the organization's first and most impactful chance to create a real connection with the employee and set them up to be highly productive ambassadors of your brand. An effective employee onboarding program means better CX, higher sales, more efficient processes and protocols. And, perhaps most importantly, it mitigates turnover, a huge issue right now as labor shortages are leaving organizations under-staffed and overworked. 
How onboarding reduces turnover
We've talked before about the cost of turnover. At the best of times, high turnover rates is a huge financial burden. But in a labor crisis, losing the talent you do attract can decimate an organization. 
Enter employee onboarding. 20% of employee turnover takes place in the first 45 days, and that number is even higher among Millennials and younger employees. "They define success differently than other generations. If a job isn't meaningful to them, they aren't afraid to leave," explains Michelle Smith, VP of Marketing at O.C. Tanner. In other words: you need to engage new hires with your brand purpose the minute they get their foot in the door. In fact, research by Glassdoor found that a strong onboarding process boosts new hire retention by a staggering 82% (it also increased productivity by over 70%, by the way).
The challenges of onboarding frontline and deskless employees
There's no arguing the importance of a quality employee onboarding program – but implementing a program in frontline and deskless organizations presents a unique set of challenges. 
For one thing, there's the scale and speed of new hires. The high turnover rate of deskless industries means there's a constant stream of new employees needing onboarding. And with some organizations employing tens or even hundreds of thousands of workers, onboarding at scale becomes a problem. 
There's also the distributed nature of deskless workforces. In retail, foodservice, and hospitality organizations, employees are in small teams spread out in locations across the country or globe, making communication fractured. And in supply chain and logistics organizations, employees might be even more distributed and isolated, with even less connection to coworkers or teams. 
The final challenge of onboarding deskless and frontline workers is the technology. Traditionally, organizations leaned on the same communication tools used for deskbound employees – email, or an intranet site employees don't even have access to at work. Or, employees receive communication through posters and bulletin boards, and verbally through floor managers. All of these communication channels don't lend themselves to a robust onboarding program at scale. 
Nudge trigger-based onboarding makes the most of those first 90 days
As a digital communication platform for deskless and frontline workers, Nudge is all about giving employees the tools, knowledge, and support to do great work. And that starts with onboarding.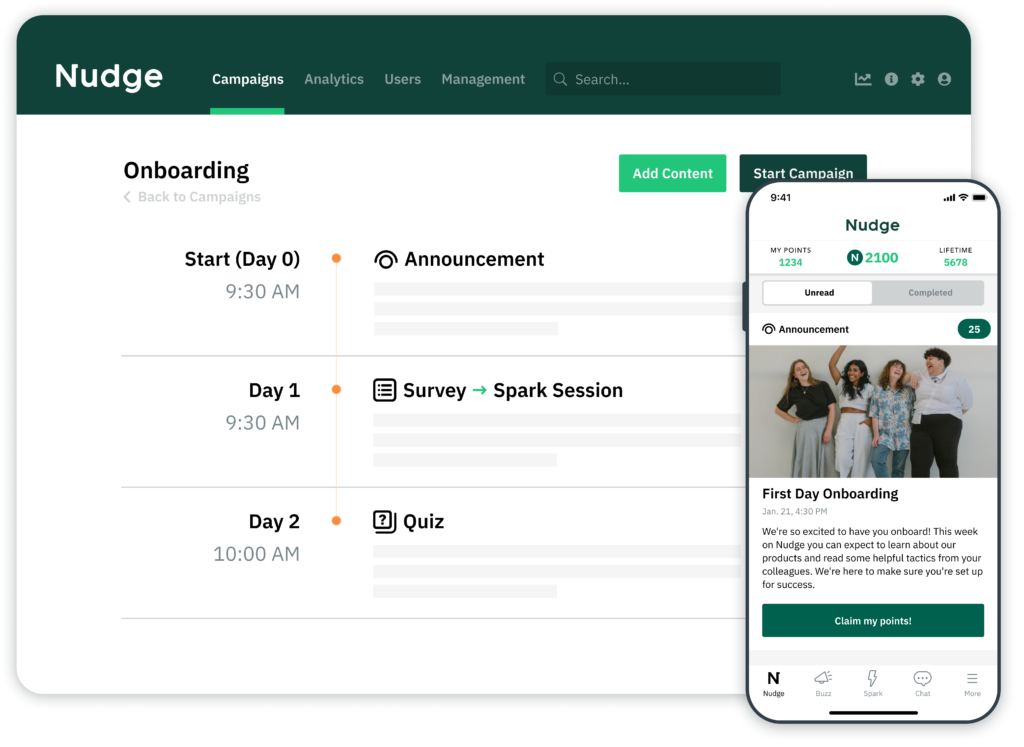 Built on proven behavioral science and information retention best practices, Nudge makes it easy for organizations to implement a consistent onboarding program at scale. Our in-app triggers automatically send content on key milestones, such as start date, 30-, 60-, and 90-day check-ins, and other important dates. 
Using bite-sized, gamified content, organizations can use Nudge trigger-based onboarding to send the right information, at the right time. Educate new hires on brand values and mission. Ramp them up with product knowledge and best-practices. Test them on safety protocols, policies, and SOPs through knowledge quizzes – all sent right to their phone. 
Plus, Nudge Analytics makes it easy to track new hires through the onboarding process – and identify red flags for disengagement long before they become a serious problem.
Additional Nudge features to build connections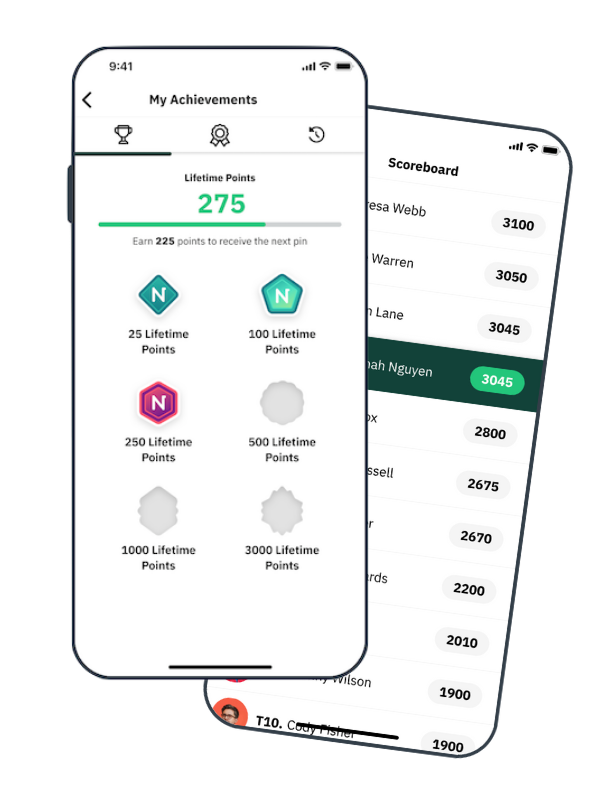 Leverage other features in Nudge's two-way communication platform to build trust and engagement with new hires. Show them that feedback is a core value by inviting them to join Spark sessions and engage in employee surveys. Encourage community-building in Chat discussions. And showcase peer recognition right out of the gate with Cheers pins. 
Weaving these communication features into your onboarding program is a great way to engage new hires right from day one, and foster a connection that will keep them loyal for the long term. 
—
Interested in learning more about how Nudge makes employee onboarding easy and effective? Speak with our team today.