Last week, the Nudge Team attended Dx3, Canada's leading retail innovation conference. We were honored to have the opportunity to join many of Canada's most respected brands to share a conversation about the future of workplace performance in the retail industry. While we were there, we gathered some powerful insights through a survey that we wanted to share.
A common theme, fear, and opportunity that continues to arise in all of our conversations across Canada is the dramatic shift in the workforce demographics, and how this impacts performance variability.
We all know that workforce demographics are changing, with Millennials now moving into managerial positions and Gen Z entering the workforce. With these younger employees come new techniques, opportunities, and technologies for internal communications, a critical ingredient for driving performance with this generation. Workplace communications have had to adapt, and now becoming mobile first, interactive, and concise. The effectiveness of mediums such as emails, newsletters, and posters is declining, while the prevalence of BYOD policies and mobile platforms increasing.
So, how are today's retailers stacking up when it comes to communicating with their frontline teams, and how does this impact the performance of their team?
We wanted to find out, so at Dx3 we conducted a survey asking retailers about the current state of internal communications. Here's what we found:
Email is no longer enough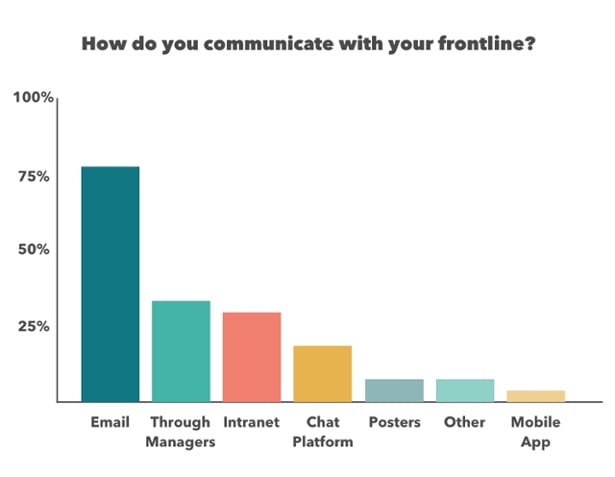 When asked how their company typically communicates with frontline employees, 78% of respondents reported using email. While this may seem like a strong argument for using email, keep in mind that 83% of frontline employees do not have access to a company email address, meaning most of these emails are going to managers, not every store associate. To support that, 62% of respondents who used email, used it alongside another channel, such as speaking directly to managers or using an intranet system. The need to use complementary channels in addition to email suggests that email cannot be a standalone solution for effectively reaching frontline employees.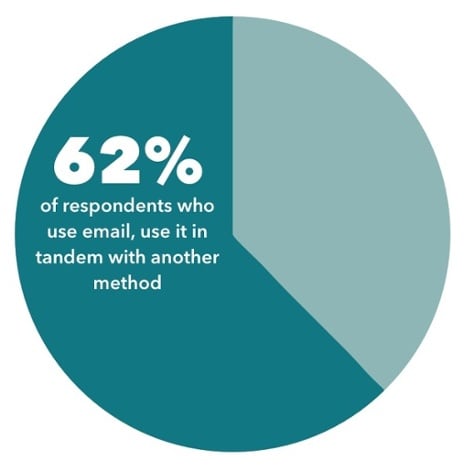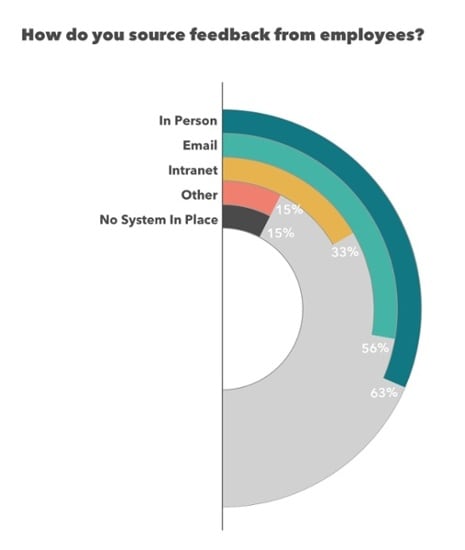 A majority of respondents reported that they receive feedback from employees through in-person interactions (63%) or through email (56%). While sourcing ideas from employees are key to employee engagement and driving optimized performance, the current methods of an in-person discussion are not an effective method to collect useful data that can be easily shared with corporate decision makers.
If the feedback comes in person (for example, an associate telling a manager during their break) there is a chance that the manager will forget to pass the idea along or forget the idea altogether during their busy day. In the case of email, there is a high chance of the email getting lost or unread in the large volume of emails that managers receive regularly. Additionally, both these methods are not easily peer validated, making it hard to receive second opinions or spark additional recommendations from other coworkers.
BYOD policies aren't yet universal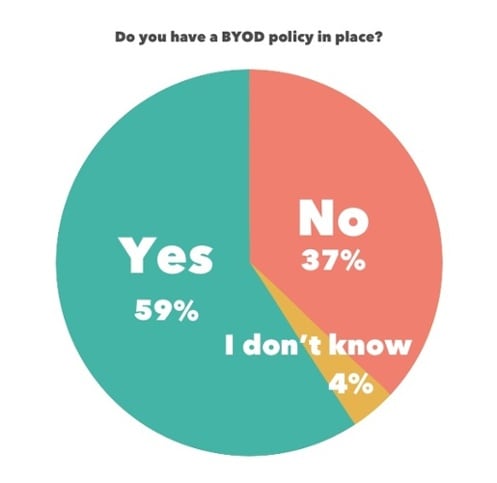 A Bring Your Own Device (BYOD) policy outlines whether or not employees can use their personal mobile devices at work, as well as the capacity in which they may use them. Over 40% of the retailers we surveyed either didn't have a policy in place or were not sure. Considering that, according to The Economist Intelligence Unit, employees believe that mobile technology makes them more productive, there is definitely room for mobile to be used more effectively in the retail space.
Mobile technology could be used more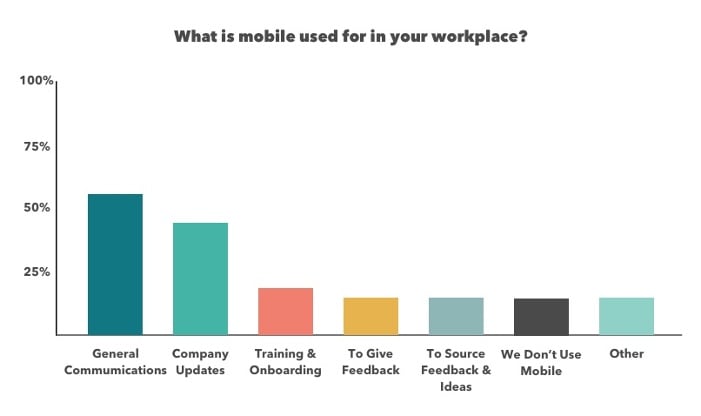 56% of our respondents stated that they use mobile for general company communications, and 44% use it for company updates (over a third of those messages are simply email on mobile devices). Despite a majority of respondents using mobile in the workplace, fewer than 15% use it in the most engaging capacity: for providing and sourcing feedback. These are two of the more interactive uses of mobile communications, as they allow frontline employees to receive recognition and/or advice promptly and directly, as well as provide a channel to have their voices to be heard by their supervisors.
Interestingly enough, 80% of those without a BYOD policy still reported using mobile for work-related activities. Employees are using their mobile devices at work without even being told to do so. Leveraging these existing behaviors by using mobile for communications, training, and recognition can have a powerful impact on the bottom line.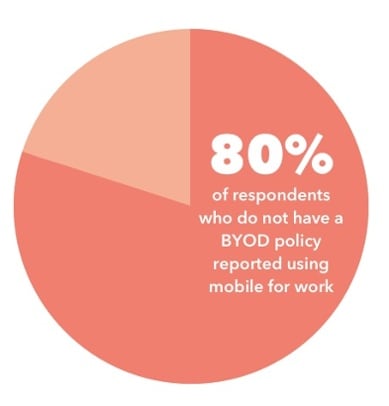 Retailers need help connecting with employees
When retailers were asked what they believe their companies needed to improve on most, employee engagement and recognition came out on top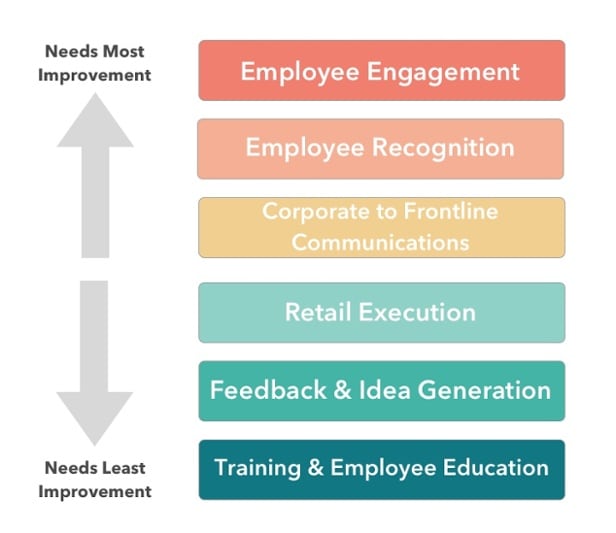 Of the six areas of improvement, employee engagement and recognition were the top two. In a large company with employees dispersed across thousands of locations, it can be difficult to keep the frontline enthusiastic about their work, as well as recognize each individual for their accomplishments. Mobile technology can provide the perfect channel to reach each employee directly, by sending messages straight to their smartphones. It comes as no surprise that engagement and recognition need the most improvement when fewer than 15% of retailers are using the most effective method for carrying out these initiatives.
As retailers move forward to adapt to the working styles of the next generation of employees, it is important for them to move away from passive and unengaging channels like email or posters, to interactive and mobile-first platforms, such as enterprise mobile apps. At Dx3, it was clear that retail is becoming more innovative externally, as seen through the changing and digitally enhanced in-store experience. Isn't it time for the retail industry to do the same internally, by embrace digital innovation and using powerful technologies for internal operations?