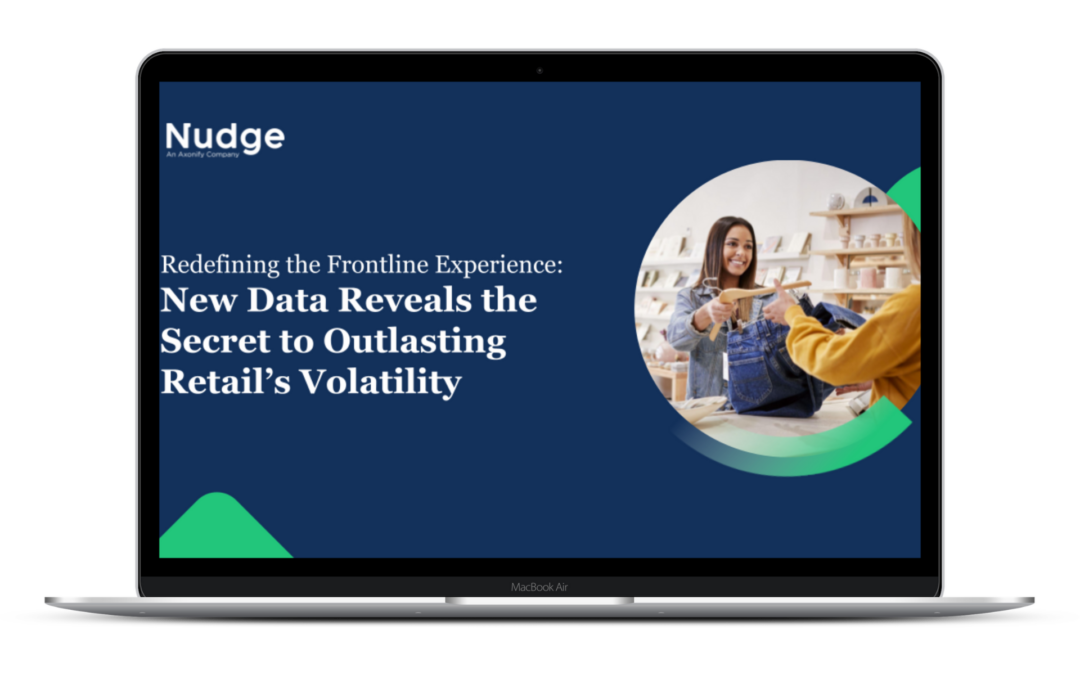 Redefining the Frontline Experience:
New Data Reveals the Secret to Outlasting Retail's Volatility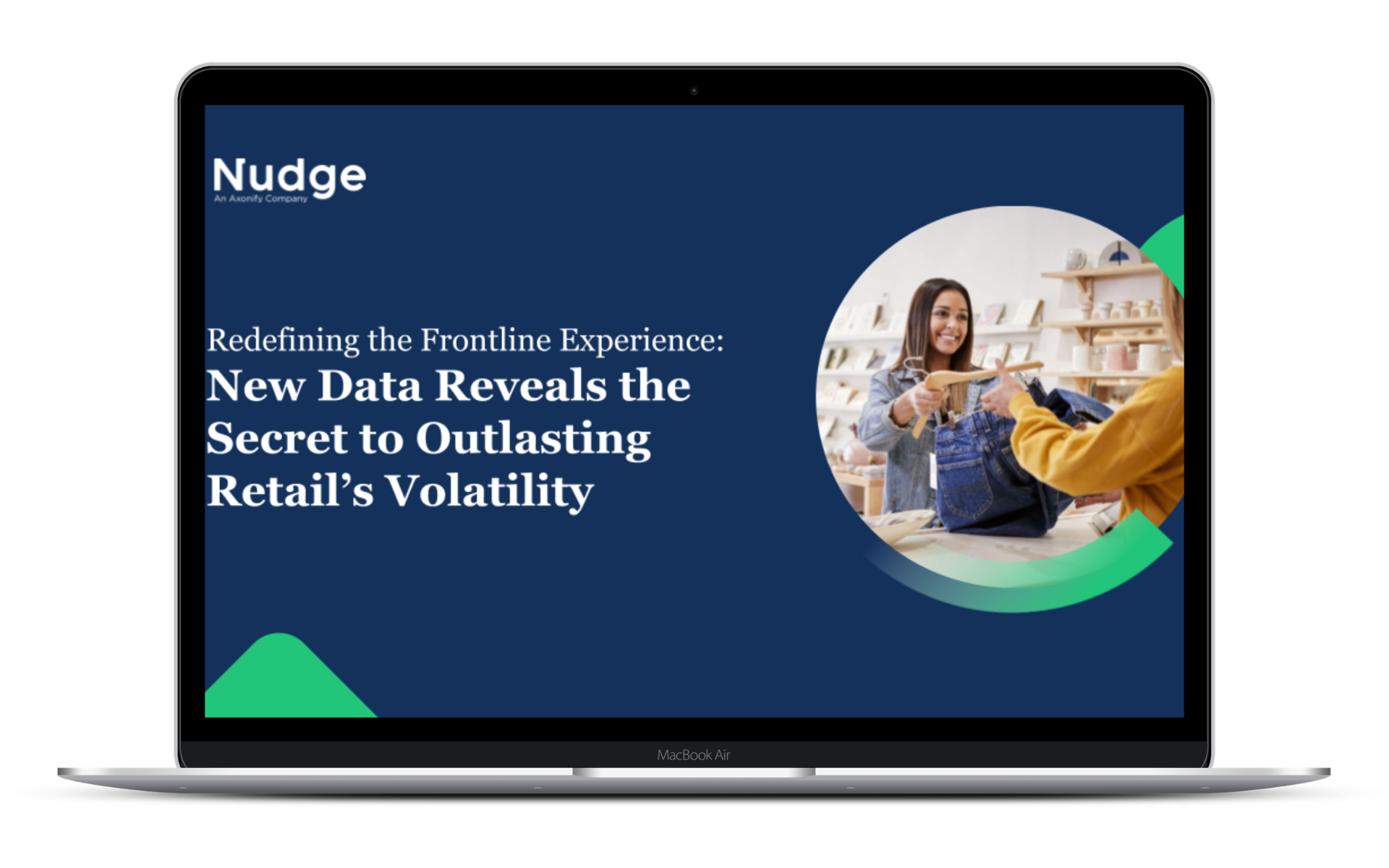 There are many things that retailers can't control: economic volatility, supply chain constraints, the list goes on. But what leaders and managers
can
control is the way they enable and support their frontline staff to drive the business outcomes retailers need – and the memorable experiences in-store shoppers want.  
During this webinar, we reveal new findings from Nudge's annual Deskless Report: Retail Edition, which aggregates insights from managers, workers, and frontline leaders. Get the latest retail-specific data on the critical intermediary role of managers, and what drives associates to perform  — and how both can impact the disruptions facing retailers today.

Watch this on-demand webinar to learn how you can apply these findings to:
Redefine and reimagine the frontline employee experience

Address key disruptors, like burnout and absenteeism

Explore the future of frontline enablement technology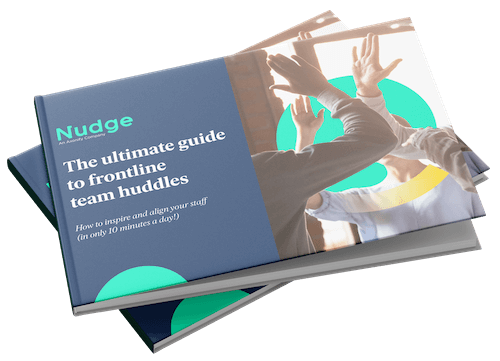 The ultimate guide to frontline team huddles
How to inspire and align your staff (in only 10 minutes a day!)
Looking to streamline processes and drive operational consistency? Reduce the strain on your managers? Drive profitability and expansion? Help communication flow? Keep customer experience top of mind? The answer is simple: pre-shift team huddles.
While team huddles have been the secret weapon of some frontline organizations for decades, these mini meetings are gaining more traction in recent years as alignment and agility are becoming increasingly critical to frontlines looking to grow and thrive.
Morning huddles can help your team stay informed and focused on your organization's goings-on and core goals – if you do them right.
That's where we come in. This guide will help you understand why top-performing frontlines use pre-shift team huddles and how to effectively bring these ten-minute miracles to your organization. Plus, we'll share tried-and-true tips and tricks from our CS team.
So, let's get started.
What are team huddles?
Also known as pre-shift meetings, morning huddles, lineups, and myriad other names, team huddles are gatherings that provide a chance for frontline teams to quickly connect on the day's tasks, company updates, team goals or hurdles, and more. Even the deskbound world has begun tapping into these valuable check-ins by utilizing standups and scrums.
Team huddles are more than just a staff meeting. They're a place for consistent, regular discussion in which employees at all levels communicate, share, and address key performance indicators and areas of improvement. The purpose is to provide an open channel where team members can safely voice any questions or concerns they may have. They should rarely last longer than a few minutes, and are usually led by a location manager.
Huddles are particularly valuable in uncertain times (we see you, global pandemic) or periods of rapid change at an organization, such as during an expansion. But even during "normal" times, every organization can benefit from these bite-sized meetings every day.
Why every frontline needs team huddles
According to our annual research, The Deskless Report, frontline workers are desperate for more on-the-job information. In fact, one of the top reasons that 36% of deskless workers currently want to quit their job is "poor communication." But information is not always easy to share. Our research also found that according to deskless leaders, the #1 barrier between head office and frontline workers is (you guessed it!) communication.
That's where team huddles come in. Do they replace your employee communication tools? Nope. But they're part of your frontline enablement ecosystem, reinforcing timely updates and foundational information, like brand values, while also providing space for real-time feedback and recognition.
Here are a few more reasons every frontline needs team huddles:
They boost team-building
Even when a location only employs a few staff members, teams can become siloed very quickly. The simplest explanation? People aren't talking to one another. An obvious benefit of a regular touchpoint in the form of a pre-shift huddle can be simple open communication. This leads to a place where employees grow to trust one another and are empowered to work together rather than separately. Pre-shift team huddles are an especially excellent mechanism for team-building between front-of-house and back-of-house staff in the restaurant and hospitality industries.
They create brand advocates
There's also an employee advocacy play here, too. Employees who feel confident that they have their basic needs met to reach their full potential (things like a safe workplace, fair pay, and the tools to do the job) can become staunch advocates of the brand and company they work for. Ultimately, team huddles lead to engaged, empowered employees ready to collaborate and contribute – and tell the world why they're proud to be a part of your brand.
They foster a feedback culture
These meetings are the perfect place to foster a sense of safety, share best practices, and allow upward feedback. According to LinkedIn's Global Talent Trends Report 2020, it's crucial that employers tap into and act upon employee feedback. By doing this, you are not only engaging your employees but involving them in decision-making. When given the space to share consumer insights, employees can even help increase your organization's competitive edge.
They promote in-the-moment recognition
All employee recognition is good – but it's even better when a worker's hard work is acknowledged in near real time, rather than at the end of the month (or longer!). Team huddles provide the perfect space to share and celebrate. For example, employees at many Enterprise Rent-A-Car locations vote on who delivered the best service during the past week, helping increase connection and add a spirit of friendly competition to their workdays.
They drive consistent task execution
When employees don't have a good line of sight into what everyone else is working on, there is a danger of duplicating tasks. These redundancies are inefficient and can be significantly negative for your brand if they involve your customers. Pre-shift team huddles allow you to quickly and efficiently create systems that help your business flow better. Taking the time each day, even for as little as ten minutes, to go over priorities and goals can drive consistency and task execution and can increase team cohesion and efficiency. Team huddles also give leaders a chance to act and mobilize their teams to make adjustments that improve customer and employee experience. Quickly sharing bottlenecks and identifying blockers with your team can get more employees focused on a problem so that it can be solved in real time.
They align on company goals
Goals and KPIs are the best way to tell you if you're on target and let you course-correct to get back on track. And your daily pre-shift huddle is an ideal place for reviewing metric updates, short-term priorities, and overall company goals. Managers can even use huddles to align their teams on priorities and drive performance in a fun way by tying your employees' successes back to the company's values and goals.
How to bring team huddles to your organization
Team huddles have the power to drive employee engagement and operational consistency… but to make that happen, you have to be consistent about it. Telling your managers to have a quick ten-minute sync-up each day isn't enough. You need to implement the right processes and tools to ensure that every location is using huddles the same way. The information shared doesn't need to be the same across the organization, but the process should be.
Here's how to implement team huddles at scale:
Step 1: Identify the "why"
If there's one thing we love here at Nudge, it's the "why." When implementing any initiative, sharing the "why" with your staff is the best chance at widespread adoption. But before you can share it with them, you have to identify the "why." So, why are you implementing team huddles? Which of the business drivers we already explored is most critical to your organization? Are you looking to drive consistent task execution? Are you hoping to open up more channels for upward feedback? Is the business going through a period of growth and you want to keep staff in the know? Thinking about this will help you provide extra context to your staff in a later step.

Step 2: Get the right tech in place
For team huddles to work at scale, you need the right technology and tools in place. Keep in mind: To achieve organizational consistency, you want to standardize the process across locations and regions, while allowing for a certain amount of personalization from managers. Our recommendation? An agenda. More specifically, a frontline enablement solution that combines task management and internal communication. Having your huddle meeting agenda baked right into your existing solution keeps everything in the same place.
Think about it: Let's say one day's pre-shift team huddle includes a review of SOP for end-of-day closing. When your agenda is baked into your frontline enablement solution, staff can access the closing checklist – as well as access additional training and learning resources – all in one place. Plus, if a staff member misses the meeting, they can access the talking points and even check off that they have read the information.
Step 3: Get your managers on board
Once you have the "why" and your tech ready to go, you're prepped to get your manager buy-in. Without your managers, your team huddles will fall flat, fast. It's critical that you take the time to educate them on the value of these mini meetings – not just for the company as a whole, but for the managers themselves. After all, managers are the ones up against it. Now more than ever, they're wearing many hats, so finding ways to standardize and simplify processes and protocols is win-win. Share with them the benefits of team huddles and the value of regular, consistent information sharing.
Success tip 💡
If you have a frontline enablement solution in place, you might even be able to back up this information with data, showing how locations that participate in recognition and feedback programs have higher revenue numbers or lower turnover.
Step 4: Share the "why" with your staff
Next, it's time to loop in your workforce. To encourage widespread adoption of this daily ritual, you'll want to make sure your workers know the value of these meetings. Here's where the "why" comes into play again – don't just explain the new process, explain the reason. So, that message might look like this:
"We're always looking for ways to improve communication and alignment across the organization and provide additional channels to acknowledge and celebrate your hard work. That's why we're excited to announce that we're implementing pre-shift team huddles at every location. These daily meetings will last no longer than ten minutes and will provide an opportunity for teams to quickly review company announcements and monthly goals, address hurdles or issues, and celebrate staff members who have gone above and beyond."
Step 5: Standardize the process
The most successful team huddles focus on consistency. To drive operational efficiency, you'll want to standardize the process, while leaving room for managers to drive their own tactical and engagement initiatives. But how can you ensure that 170 locations across the country (or the world!) are sharing the same information at their huddles?
Here's where getting the right technology in place pays off. When you execute your huddles through your communication or enablement solution, you'll be deploying the same agenda items to every location. With Nudge, head office can share mandatory and suggested items with links to relevant resources. Managers can then supplement that agenda with their own custom topics, like star performer call-outs, regional updates, or even add in additional "approved" topics from a head office-populated list.
In the team huddle, managers and employees open up the agenda and review the items for the day, checking them off as they go. This helps huddles to run faster and more effectively, because managers can spend more time on team building and addressing issues versus simply relaying information. The checklist also ensures managers can track who has received the updates, ensuring full, consistent visibility across your workforce (no matter how big!), while still avoiding duplication of information.
Step 6: Monitor at scale
One more reason to deploy your team huddles using a frontline enablement solution: the analytics! Sure, you could leave your managers to conduct these meetings old-school. But leveraging technology ensures that every team huddle can be easily tracked, so you can see at a glance what's being added to agendas and what topics need more attention – so you can steer the conversation accordingly. You can even see what items are getting checked off and when, allowing you to get full visibility on how information is getting disseminated. Pair this with a resource hub and knowledge-testing questions, and you'll have the ability to check the confidence and preparedness of your entire workforce. Magical, right?
Success tip 💡
Monitoring at scale can also help to drive company-wide adoption. If you know which locations are consistently doing team huddles (and which are lagging), you can celebrate the behavior you want to drive. Acknowledge the teams that are making team huddles a daily ritual as a way to encourage other locations to follow suit.
The anatomy of a perfect team huddle
You've got your tools – check! You've prepped your staff – check! You've got buy-in from your managers – check! Now it's time to start running your huddles. But what goes onto the agenda? These meetings are ten-minute miracles for a reason. Anything beyond a few minutes starts to have diminishing returns. So, how do you make those few minutes count?
Download the full guide to learn more!
Download the full guide to read more!
Share your details below to get the full guide, which includes guidelines and examples to help you structure your team huddles, as well as tips to optimize your huddles from our CS team!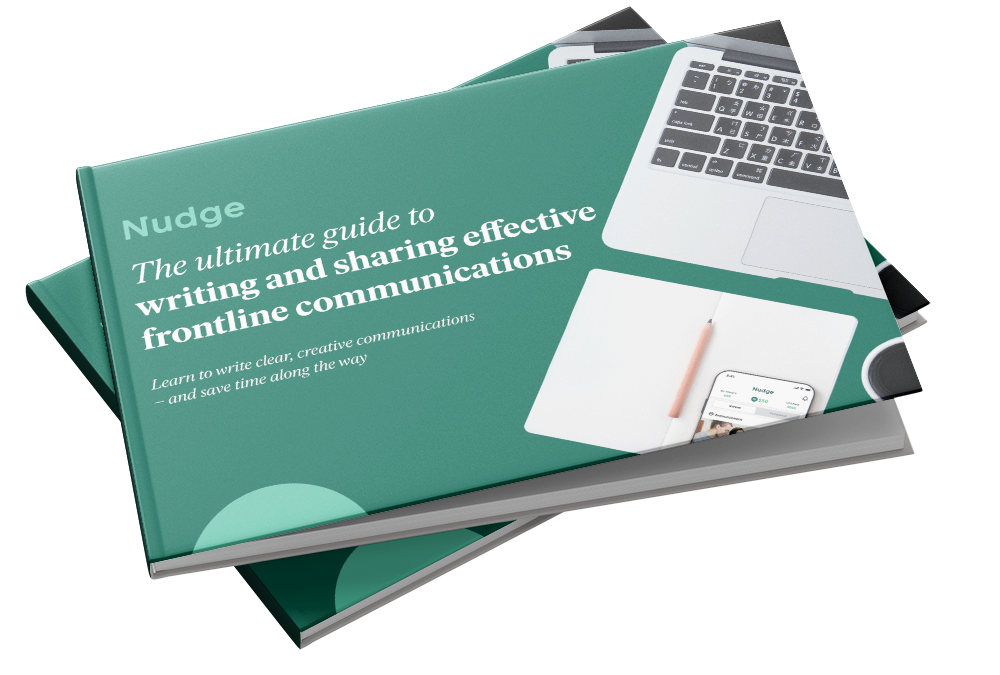 The ultimate guide to writing and sharing effective frontline communications
Learn to write clear, creative communications – and save time along the way!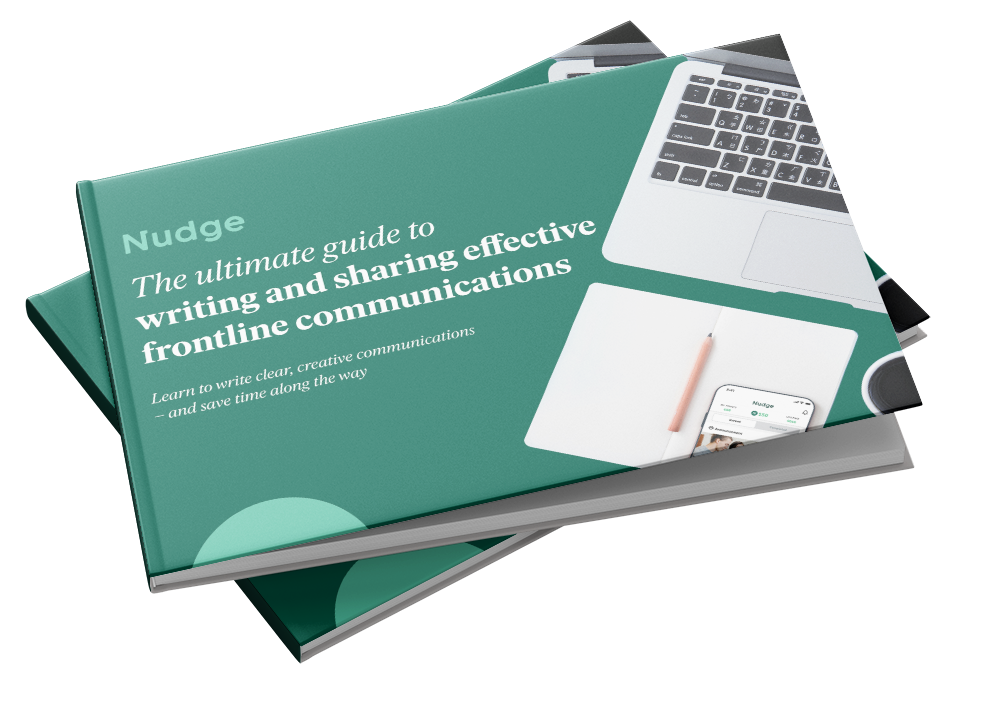 Ah, the struggle of frontline communication teams: you want to do everything you can to drive knowledge retention and employee engagement, but to do that, you need truly effective communications – and that takes a lot of time and effort. 
The Nudge customer success team is here to help! In this guide, we're giving away all our secrets and serving up a collection of tried-and-true tips that any frontline organization can use to write creative, effective communications, while saving time and energy.
Download the guide to learn:
Why writing creatively is the secret to effective internal communications

How to write creatively (plus an exercise to put it into practice!)

How to build a content strategy and use campaigns to save time

Plus: a free internal communications campaign builder!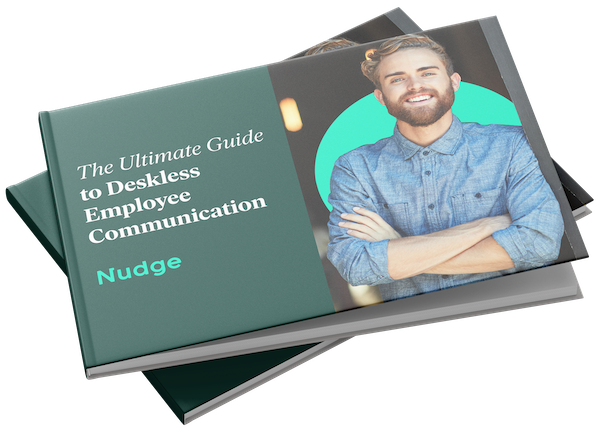 The ultimate guide to frontline team huddles
How to inspire and align your staff (in only 10 minutes a day!)
The deskless workforce. A powerful group.
They comprise 80% of the workforce, and yet they have been more or less forgotten when it comes to helping organizations grow and thrive. But what top brands have known for decades is this: ignoring the power of your frontline staff is the biggest mistake that organizations can make.
Whether you're in retail, foodservice, manufacturing, hospitality, or any other predominantly deskless industry, your workforce is the most important asset in creating a profitable, stable business that can adapt to the changing world.
The most important way to invest in your workforce? Communication. Effective employee communication can boost
engagement, increase revenue, reduce turnover, improve workplace safety, and much more. It can culturally inspire your workforce and empower your teams to do their absolute best… if it's done right.
And, believe us, it's not always easy to get it right. But we're here to help. This guide has everything you need to create an effective employee communication strategy for your frontline and deskless workforce.
So, let's get started.
What is employee communication?
There's no shame in starting from the very beginning – especially when it comes to deskless employee communication, which is a relatively new concept… at least in its current form.
At its most basic, employee communication (or, corporate communication or internal communication) refers to the way that information flows within an organization. Traditionally, this flow was almost exclusively top-down, with communication coming from head office to managers to employees.
The relationship between head office and its employees dates back to the 1800s, with forward-looking companies quickly recognizing the relationship between employee engagement and a steady flow of two-way communication. But things get really interesting from the 1960s onward, with deskbound employees enjoying a steady stream of new innovations: computers, fax machines, email, the internet, not to mention the technology boom of the 2000s and beyond.
But while technology for deskbound workers continued to evolve, the communication channels for frontline and deskless employees more or less stayed in the '90s, with email, intranet sites, paper surveys, and bulletin boards remaining the preferred methods to engage with the largest workforce in the world.
And that's a problem, because the deskless workforce presents a number of unique challenges that need to be addressed through communication.
What makes communicating with deskless workforces unique?
You can't communicate with your deskless workforce the same way you would a deskbound team. Here's why.
They're distributed and disconnected
Some deskless workers are on the frontline, working in retail, foodservice, or hospitality in small teams dispersed across the country (or the globe). They might have little to no connection to other locations, or even direct coworkers that work different shifts without overlap. Other deskless workforces are even more distributed and disconnected, particularly employees that don't operate in a location at all (think delivery workers and other supply chain or logistics employees that are on the road, working solo). These workers are particularly at risk for disengagement and fractured communication.
A heightened need for real-time info
If the COVID-19 pandemic showed us one thing, it's that deskless employees need to be agile and responsive. Even when your organization isn't navigating such uncertain times, your workforce still benefits from real-time communications that allow them to react to sudden changes to promotions or strategies, not to mention valuable insights from other locations or even unexpected safety protocol changes.
No access to technology
Employee communications have almost entirely moved online. For deskbound employees, that means email, Slack, and any of the countless other office communications platforms that have emerged over the past couple decades. For deskless employees, communication has stayed slightly more analog – verbal updates from management, memos on the bulletin boards, or a poster in the break room. Technology has stayed a bit more dormant for this workforce, with communication shared via intranet sites and email that employees can't even really access during work hours, if at all. In fact,one research study found that 45% of non-desk workers have no access to their company intranet at work, and 83% don't have a company email address.
More SOPs
Frontline and deskless industries – especially manufacturing, facilities management, retail and foodservice – tend to have more standard operating processes in place that need to be followed by employees. Think opening and closing procedures, food-handling protocols, machinery handling, workplace safety processes, and so on. It's crucial that these teams have up-to-date information on these processes at all times – and are able to access it quickly and efficiently.
A lack of community
A distributed deskless workforce makes it incredibly difficult for your employees to feel like they're part of a larger community, working toward a common goal. In fact, according to The Deskless Report, 42% of frontline workers don't feel connected to coworkers outside their location. This fragmentation is even greater in franchise locations, where communication with head office is even more fractured. This lack of community can be detrimental to morale and lead to huge turnover costs if not properly addressed.
Why employee communication is so important
Employee communication has huge impacts on your bottom line. Here are some of the ways effective employee communication can save or make!) you money.
Increased operational agility to change quickly
The ability to respond quickly to changing local, national, and global conditions means something a lot different than it did a couple years ago, and the role of employee communications has been a huge differentiator for companies looking to accelerate change to stay relevant (or even just open) during a crisis.
Less employee turnover
According to the U.S. Bureau of Labor Statistics, the retail and hospitality industries consistently have the highest "quit rate." Depending on the industry, turnover rates can be as high as 300%. And it goes without saying that high turnovers can take a huge chunk out of your profits. One estimate puts the cost of losing a single retail employee at over $3,000, while this research found the cost of losing a hospitality worker is between $3,000 and $13,000. There are several reasons frontline turnover is such an issue – and salary isn't really top of the list. Frontline workers want a sense of purpose, clear information, and a company that listens – all of which has traditionally been lacking at frontline organizations, where communication can be somewhat of a broken telephone.
Fewer workplace accidents
Financially – and this is really a no-brainer – there are a number of reasons why you want to avoid workplace accidents among your frontline workers. There are medical and administrative expenses, as well as loss of labor, but according to the National Safety Council, there's also time lost by workers indirectly involved: cost of time to investigate and report on injuries, damage to work property and vehicles, and overall productivity loss. All told, the cost of workplace injuries in the U.S. is estimated to be over $170 billion a year. But with a proper communication strategy in place, safety training becomes an ongoing process that keeps deskless and frontline workers engaged and well-informed on protocols and daily tasks.
Higher profits
Yes, deskless employee communication boosts engagement, but employee engagement isn't just about happiness. Deskless workers armed with the right information are more engaged in their job – and are more productive and profitable as a result. In other words, to make more money, you need to give your frontline workers the information they need to make you more money.
Better CX and guest loyalty
The value of customer retention can't be overstated, and the cost of losing customers is a serious concern. Better customer experience starts with better employee experience. While some industries (we're looking at you, retail) have moved into an omnichannel approach, where brick-and-mortar and e-commerce sites work in tandem to provide the best possible customer experience, it's crucial the organizations ensure that their deskless and frontline workers are keeping up – and a proper communication strategy is the solution.
Fewer costly mistakes
In industries like retail, foodservice, and hospitality, mistakes can have an especially huge impact on customer loyalty and revenue – not to mention workplace safety. What makes it even more frustrating is how many mistakes can be easily avoided by standardizing tasks and clearly communicating with your deskless workforce. That means sharing easily digestible information and then finding ways to test retention and identify knowledge gaps on an ongoing basis. It also means leveraging upward feedback to hear directly from your frontline on what's working – and what's not – so you can keep processes as regulated as possible.
More valuable ideas
One of the most profitable benefits of deskless employee communication is that amazing ideas find their way from your workforce back up to head office – and to other locations. After all, if one location discovers an easy way to improve the customer or guest experience through a tweak in a display, or boosts sales through a simple upsell, wouldn't you want the rest of the company to leverage that learning?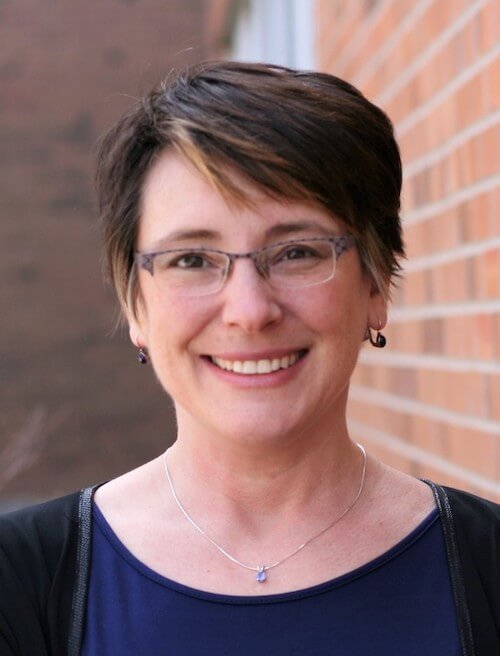 The psychology of uncertainty
with Dr. Wendi Adair
Fun fact: no one likes a lack of information. From a psychological point of view, a lack of information leads to feelings of uncertainty, which leads to a stress response.
"We are motivated as humans to feel like we have a good sense of what's going on. A lot of what our brain is doing is trying to figure out what's going on around us and find ways to feel like we have a sense of control," explains Wendi Adair, Professor of Organizational Psychology at the University of Waterloo.
That's where you see disengagement and demotivation kick in. When employees are feeling that uncertainty, they'll naturally try to distance themselves from it as much as possible. "When there are feelings of uncertainty or ambiguity, we're motivated to reduce those feelings."
Reviewing your existing deskless employee communication strategy
Before you can start creating an effective communication strategy, you need to take stock of your existing one. And yes, even if you don't have a formal strategy in place, you still have communication – or lack thereof – to audit. Here's what you need to know.
How to run an internal communications audit
An internal communications audit is a review of how well your organization and its leaders distribute and collect information to and from your workforce and how well the current setup aligns with your overall strategy. This audit is especially crucial for organizations with deskless and frontline employees, who spend very little face-to-face time with management and don't have regular access to computers, so a specialized strategy is crucial. A communications audit will ensure you identify the right way to share information.
Download the full guide to get a printable worksheet to use when running your audit!
1. Create an audit team
If you don't have a dedicated internal communications team to run the audit, put together an ad-hoc team composed of delegates from operations, HR, and marketing. You may also want to include someone to represent the frontline employees to provide additional perspective.
2. Set goals
Audits work best when they focus on improving specific aspects of your internal communications. The narrower and more measurable the goals are, the greater the chance your audit will succeed. Develop your goals by asking questions about how information is shared with your frontline or deskless workforce:
What information is shared with my frontline?
What formats and channels are used to share information?
Who is sharing information with my frontline?
Who might want to communicate with them?
Are my communications being read? How easy are they to find, read, and remember?
Do I have a way of measuring the impact of my employee communications?
Is the information being shared having an impact on workplace safety and consistency of execution?
Are our communications effectively driving profits and revenue?
Is the information being shared having an impact on turnover rates and employee morale?
Are our communications boosting productivity?
Are we sharing the information employees need to do their job better and more efficiently?
Are we collecting ideas and best practices?
3. Collect information and insights
Collecting the intel for your communications audit is a multi-stage process. The steps can be done in any order, but we recommend collecting your information in the following stages:
Metrics review
Workforce insights are a critical step in any communication strategy and are extremely informative in your internal communication audit. Raw numbers can be used to either support or challenge the anecdotal feedback you'll be collecting later. Depending on what types of communication technology and tools you already have set up, these numbers can come from multiple areas:
Email/newsletter readership and engagement rates
Information retention test results
Employee survey completion rates
Metrics on employee ideas and suggestions
Employee turnover rates
Communication tools review
An internal communications tool is a method, product, or software that you use to send and receive messages to and from your team. The tools you use should make your communication strategy more effective and streamlined – but they can do the opposite. As you review your tech stack, answer the following:
What tools or platforms are we using to communicate with our frontline?
Who manages those tools?
Whose decision was it to use those tools? What was the objective behind this decision?
How often are these tools used to send internal communications? To whom?
How well do these communications fulfill their objectives?
Anecdotal information
Numbers can tell you a lot, but the human side can tell you just as much, if not more. It's important to interview both sides of the conversation: executive management and the workers. When talking to management, get their perspective on what they prioritize, how they think the company should be communicating, and what they think the gaps are. When you do get to talk with frontline workers, don't ask leading questions. Balance quantitative and qualitative responses and give respondents an opportunity to free-write their answers.
Do you feel in-the-know and up-to-date?
How much do you know of what's going on in the company?
Who would you go to with an idea or with feedback?
4. Analyze the intel
Once you've harvested your information, you can analyze the data to uncover weaknesses in your internal communications strategy and look for signs your communication is broken (check out our sidebar for warning signs). Compile your findings into key insights, then go back to your audit goals to see what conclusions you can derive. From there, you'll develop a list of recommendations to share with stakeholders and start to prepare a plan of action. Here are a few examples of recommendations you might bring back to the organization based on your audit findings:
Choose a new communication tool or platform to make communication simple and easy.
Create a monthly or quarterly communication calendar to ensure your communications are targeted around a core goal or objective.
Identify the metrics you want to track and how you'll track them.
If you don't have one, create a dedicated communications lead who will work with various stakeholders to create and share information.
Remember, you don't have to overhaul your entire internal communications system all at once. You can improve one component at a time, focusing on the area that will deliver the most value to the organization and its employees.
Building out an effective strategy
Once you've identified your organization's communication problems, it's time to address them with a new strategy better suited to your workforce. These steps will help you get started.
Download the full guide to read more!
Share your details below to get the full 40+ page guide, which gives you everything you need to audit your existing employee communication, build out a new strategy, and monitor your efforts long-term.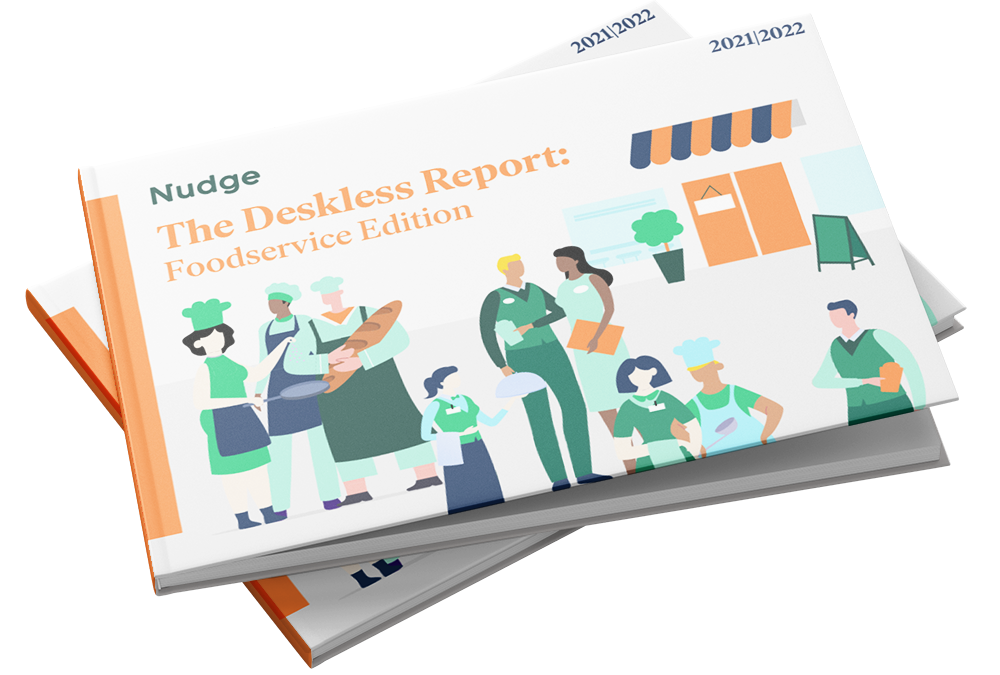 The Deskless Report:
Foodservice Edition
Nudge surveyed restaurant workers and leaders from across the United States to answer one question: "What's the state of the foodservice workforce?"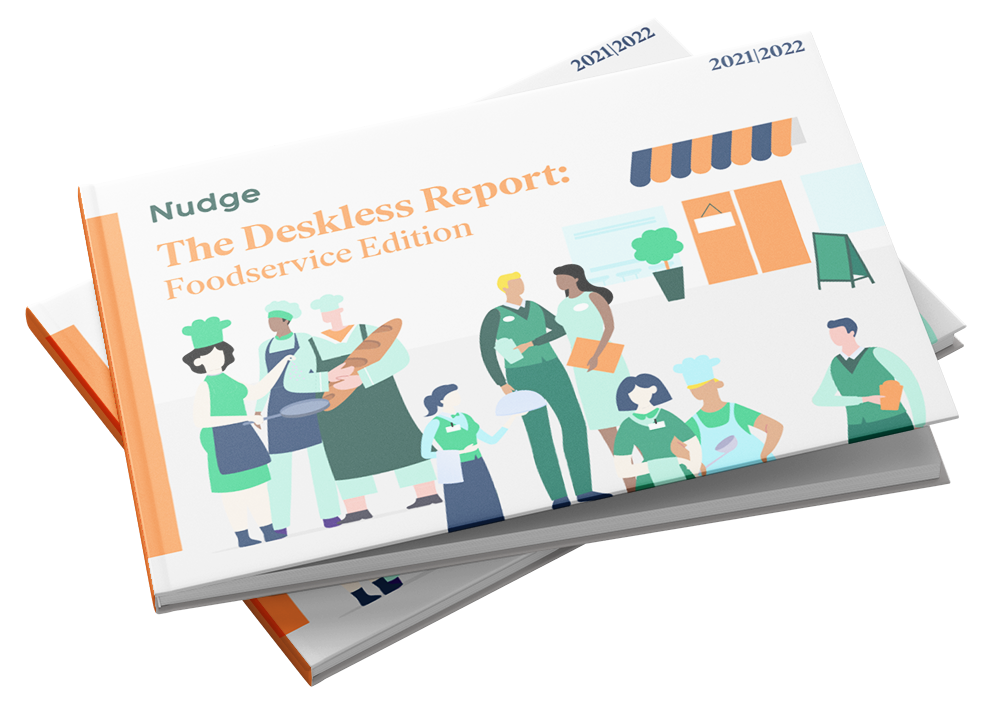 Nudge surveyed restaurant workers and leaders from across the country to learn what keeps leaders up at night (hint: it's the labor crisis!), and what workers need in order to deliver next-level guest experiences, level up execution, and achieve operational efficiency.
In exploring the viewpoints of both restaurant workers and leaders, this report delves into the disconnect between them – the gaps between what staff want and what organizations are providing.
Download the report to learn: 
What drives engagement and motivation in foodservice workers

The #1 challenge facing operators right now

The state of foodservice worker communication

The state of foodservice worker feedback 

How foodservice leaders are investing in EX in the coming year