Looking to strengthen your team connection? Help communication flow? Keep customer experience top of mind? The answer is simple: pre-shift team huddles.
From foodservice to retail, so many industries can benefit from implementing this practice into their day-to-day workflows. After all, they've been proven time and time again to be a habit of high-performing teams. Morning huddles can help your team stay well-informed about your organization's goings-on and keep focused. 
Below you'll find a quick explainer on team huddles – plus five reasons pre-shift huddles are a must for any frontline organization: 
What is a team huddle? 
Also known as pre-shift meetings or lineups, team huddles are a chance for teams to quickly connect. The manager on duty can go through recent updates, review goals or hurdles, and engage staff for their upcoming shift. It should rarely last longer than five minutes.
Team huddles are more than just a staff meeting. They're a place for consistent, regular discussion in which employees at all levels communicate, share and address key performance indicators and areas of improvement. The purpose is to provide an open channel where your team members can safely share any questions or concerns they may have.
This particularly valuable in uncertain times (we see you, global pandemic) or periods of rapid change at an organization, such as during an expansion. But even during "normal" times, every organization can benefit from these bite-sized meetings, every day.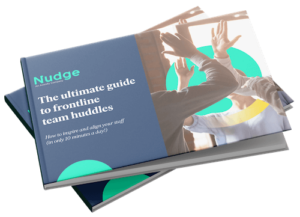 Want to dive even deeper into the world of team huddles? Read our Ultimate Guide to Frontline Team Huddles for everything you need to get started, including example agendas, CS-approved tips, and more!
Team huddles boost team-building and employee engagement
Even if they're small, teams can become siloed very quickly. The simplest explanation? People aren't talking to one another. An obvious benefit of a regular touchpoint in the form of a morning huddle can be simple open communication. This leads to a place where employees grow to trust one another. At pre-shift team huddles, they can give and receive help as they need and can be empowered to work together, rather than separately. 
Pre-shift team huddles are an especially excellent mechanism for team-building between front of house and back of house staff in the restaurant and hospitality industries. And that time dedicated to building relationships between various staff functions can extend to your brand and customer experience. 
There's also an employee advocacy play here, too. Employees who feel confident that they have the basics to reach their full potential (things like a safe workplace, fair pay, and the tools to do the job) can become staunch advocates of the brand and company they work for. 
Ultimately, team huddles lead to engaged, empowered employees ready to collaborate and contribute – and that high employee engagement leads to better retention, CX, sales, and myriad other benefits. 
Team huddles allow you to get proactive vs. reactive on employee feedback
We all know that better team communication goes a long way. Unfortunately, nearly two-thirds of managers are ill-equipped to have tough, necessary conversations. Team huddles can be instrumental in giving teams the space to identify and highlight the issues that require the attention of other levels of the organization.
It's also the perfect place to foster a sense of safety, share best practices, and allow upward feedback. Say, for example, that a team member mentions a policy they believe needs to be changed. If their colleagues also share the same issue, managers can easily take that feedback and facilitate the necessary changes.
According to LinkedIn's Global Talent Trends Report 2020, it's crucial that employers tap into and act upon employee feedback. By doing this, you are not only engaging your employees but involving them in decision-making. When given the space to share, employees can also help increase your organization's competitive edge. Retail fashion giant Zara, for example, relies on its frontline staff to share feedback and insights around customer requests, trends and new style ideas by noticing what customers wear or are looking for as they shop. 
When employees believe they are heard and can contribute upward feedback, they can bring that happiness and ease to their work. You may see it shine through in their effectiveness and their interactions with customers and peers. 
Team huddles increase efficiency and consistency in task execution
When employees don't have a good line of sight into what everyone is working on, there is a danger of duplicating tasks. This is inefficient – and can be significantly negative for your brand if it involves your customers. Pre-shift team huddles allow you to quickly and efficiently create systems that help your business flow better. Taking the time each day, even for five minutes, to go over priorities and goals drives consistency and task execution and can increase team cohesion and efficacy.
Team huddles are an opportunity to seamlessly build new behaviours that push your team to excel. Cascading announcements and protocol changes from head office down through the huddles ensures that every employee understands standard procedures and processes in a deeper way. This is especially true if you pair those huddle announcements with additional information in a digital communication platform that they can refer back to when needed. 
Team huddles also give leaders a chance to act and mobilize their teams to make adjustments that improve customers and employee experience. By quickly sharing bottlenecks or identifying blockers with the team gets more employees focused on a problem so that it can be solved in real-time. 
Team huddles keep you aligned on company goals
Goals and KPIs are the best way to tell you if you're on target, and let you course-correct to get back on track. And your daily pre-shift huddle is an ideal place for reviewing metric updates, short-term priorities and overall company goals. 
Giving your team members a quick face-to-face before jumping into work keeps everyone aligned and on task. According to Inc., team huddles "keep companies focused on the same strategic goals, ensure timely answers solutions to important questions, and strengthen team accountability because everyone knows what everyone else is up to." 
In a frontline organization, managers can use huddles to align their teams on priorities and drive performance in a fun way by tying your employees' successes back to the company's values and goals. Employers can even use gamification as an effective strategy for engaging deskless employees. You can now set up friendly competitions through a communication app (guess which one is our favourite?), track milestones, and reward deskless employees for their hard work. After all, providing employees with achievable goals and incentives has been closely linked to improving your bottom line and driving productivity. 
Team huddles give each team member a voice
Helping your employees feel valued is paramount, and you can drive that sense of value by ensuring they feel seen and heard. Our research found that 78% of frontline leaders say their company has channels in place for collecting feedback. However…only 24% of frontline workers say their company asks them for feedback often. Does that math seem off to you?
It can be hard for organizations and managers to find ways to give each and every team member a voice – especially in an organization of hundreds of employees. That's where pre-shift team huddles come in. 
Huddles can be the optimal time to share news, recognize employees, and highlight wins. A win could be anything: someone going several consecutive days (or months) without an accident, a team achieving a sales target, or even an employee's personal win. That recognition of good work can go a long way toward giving team members – even in large organizations – a voice. 
A key piece of this is ensuring it's your employees speaking up – not just your managers recognizing good work. Finding engaging ways to allow your employees to share updates or announce changes themselves during the huddle can be helpful. Giving them space to share and celebrate, professionally and personally, can make all the difference. For example, employees at many Enterprise Rent-A-Car locations vote on who delivered the best service during the past week, helping increase connection and add a spirit of friendly competition to their workdays. 
—
Teaching your team good client experience and company culture doesn't end at the onboarding stage. Having a pre-shift huddle can help your managers balance functional issues and company purpose effortlessly. What may seem like a small act for your team could make a world of difference for your company and brand. For more on optimizing pre-shift team huddles, check out our recent post!