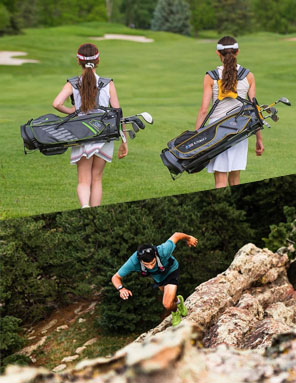 Iconic Canadian brands leverage Nudge to engage frontline associates, creating safe, purposeful in-store experiences
TORONTO, Canada—Aug. 5, 2020—Nudge Rewards, the leading frontline communications platform, today announced that two iconic Canadian brands— Golf Town and Sporting Life—are leveraging its mobile solution to drive employee engagement and empower store teams to meet customer expectations for safety and service in-store.
Golf Town—the largest specialty golf retailer in Canada with 48 stores across the country—merged with the leading Canadian sports lifestyle retailer, Sporting Life, in Fall 2018 under the name Sporting Life Group. While maintaining separate operations, both brands place a high priority on engaging frontline associates, who play a critical role in creating memorable shopping experiences for customers.
When the COVID-19 pandemic prompted a need to create a safe setting for returning customers, Golf Town knew succeeding in this new environment would depend on their frontline workforce. With both customer and employee experiences at the forefront of every decision, Golf Town turned to its trusted communications partner, Nudge, to inform and connect store teams, rallying its workforce around the "new normal" and helping employees successfully navigate the evolving in-store environment.
"There was no playbook for navigating this challenging and uncertain time, but employee engagement undoubtedly played a key role in helping our store teams adapt and evolve at each stage of reopening," said Chad McKinnon, President of Golf Town and Sporting Life. "The employee experience has always been a priority, especially during this pandemic, so to be able to leverage Nudge and reach our people when working remotely is a reality, we were able to help our teams stay connected and engaged, despite the disruption."
With geographically dispersed locations and a variety of new COVID operating protocols, Golf Town leveraged Nudge's peer-to-peer collaboration and crowd-sourcing capabilities to keep employees connected and amplify their voice in the organization. In topic-based forums, employees shared ideas and feedback, highlighting success stories for creating positive customer moments and giving the rest of the organization insight into the current situation.
Golf Town also leveraged Nudge's real-time communication capabilities to quickly and easily communicate news of its reopening momentum with its workforce, acknowledging the regional managers, operations teams, and employees involved in ensuring its success. With timely announcements and peer-to-peer recognition, Golf Town kept their workforce in-the-know on reopening developments and recognized individuals for their commitment to providing a safe, inviting environment for customers.
Building on the three-year success of Golf Town's engaging communication program, Sporting Life selected Nudge as its communication platform of choice earlier this year. The sports lifestyle retailer looks forward to leveraging Nudge's capabilities to launch a new Sporting Life strategic plan, including evolving its workplace culture and creating strong, cohesive teams that support the brand's vision, purpose, and mission.
"There has never been a more important time to create engaged frontline teams that are prepared to embrace change and rise in the face of adversity," said Jordan Ekers, Nudge co-founder and Chief Customer Officer. "Forward-thinking brands believe in their people and see the benefits of creating purposeful experiences for associates and customers."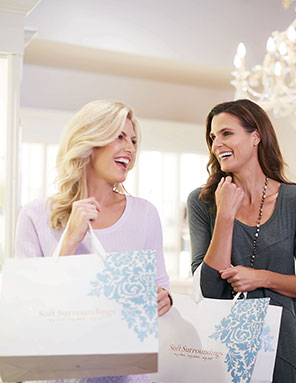 Soft Surroundings reopens two-thirds of store locations in weeks, supporting frontline workers with Nudge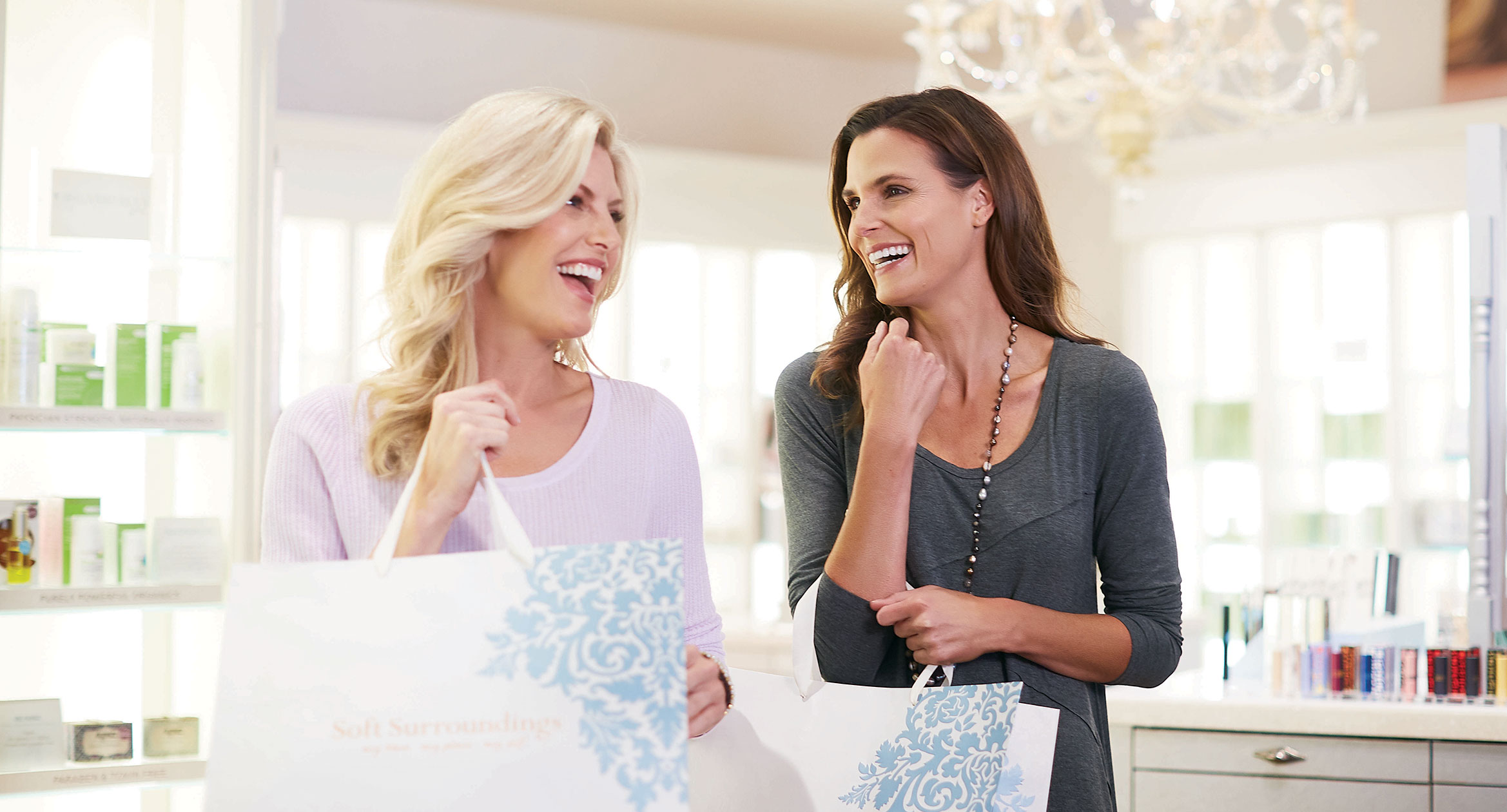 TORONTO, Canada, – June 24, 2020 – Nudge Rewards, a leading frontline employee communications platform, today announced that Soft Surroundings is using its mobile solution to equip store associates in welcoming customers back to a high-quality in-store experience, during the reopening period and beyond.
Soft Surroundings is a women's lifestyle brand, offering unique and comfortable apparel, luxury bedding, and a range of beauty and fragrance products, through their catalog sales center and 80 store locations across the US. After temporarily closing locations in response to COVID-19 at the end of March and furloughing the majority of the workforce, they reopened 53 of their locations over the course of four weeks in May and June.
"Our ability to quickly and safely reopen was possible in large part to the partnership we have with Nudge," said Marc Galloway, VP of Store Operations, Soft Surroundings. "We've always put a priority on listening to our frontline associates and, during this unprecedented period, we've depended on store feedback at each stage of reopening, helping us stay agile without ever compromising on high standards of customer experience."
Soft Surroundings relied on Nudge to keep store managers and associates feeling connected and informed. Communications campaigns were designed to engage furloughed staff, sharing content that focused on brand loyalty, community building, and employee interests, which resulted in thousands of interactions from associates over the course of two weeks. During reopening, Soft Surroundings empowered returning associates with real-time information on new procedures, health and safety updates, and leadership bulletins to reinforce and keep pace with evolving protocols.
Leveraging Nudge's Voice of Employee capabilities, Soft Surroundings was able to rapidly uncover, and scale best practices from an initial group of high performing stores that were among the first to open. Taking what they learned through the Nudge platform, Soft Surroundings was able to replicate those best practices at other locations. Store managers had a means of identifying areas of opportunity and operational improvement, accelerating ramp-up plans as they shared insights in real-time. Soft Surroundings' overall level of preparedness, visibility, and testing had enabled them to activate their workforce and ensure both associates and customers felt safe and confident returning to their physical locations.
"We've always believed that dormant, brilliant ideas live on the frontline," said Jordan Ekers, Nudge co-founder and Chief Customer Officer. "Soft Surrounding is a great example of a brand that knows the value of frontline insights and was able to surface and scale best practices across locations when it mattered most."
About Soft Surroundings
Founded in 1999 and headquartered in St. Louis, Missouri, Soft Surroundings is a leading aspirational lifestyle brand offering unique solutions to today's active woman who has tremendous demands on her time and craves interludes of comfort, romance and relaxation in her life. Soft Surroundings reaches its customer through its print, digital and social media channels as well as a national footprint of 80 stores.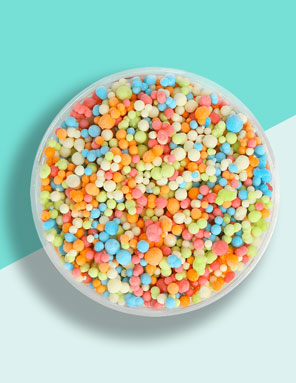 Dippin' Dots and Doc Popcorn deploy Nudge to help locations open safely and profitably amidst heightened demands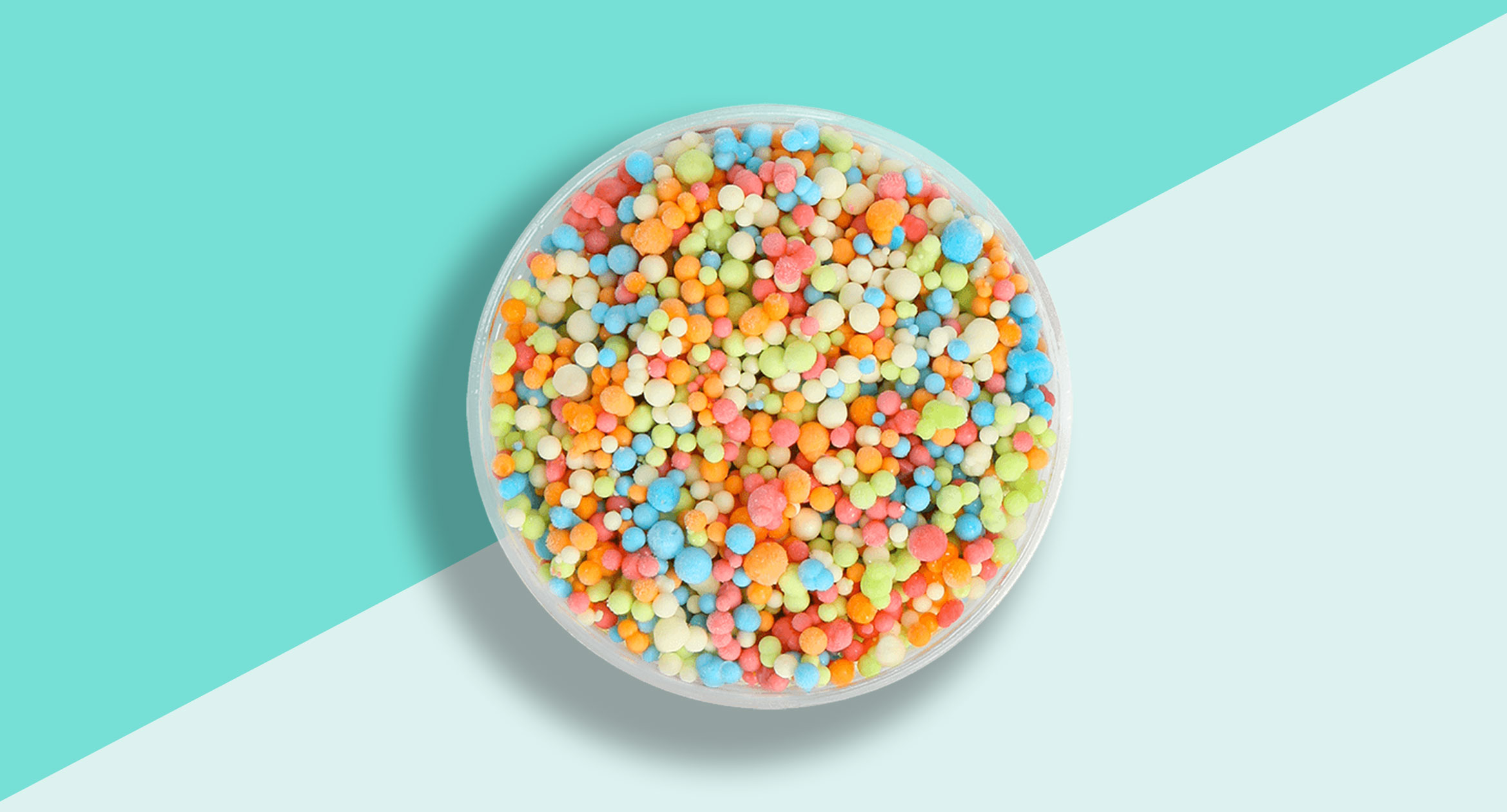 Toronto, Canada – June 3, 2020 – Dippin' Dots & Doc Popcorn—the leading flash frozen beaded ice cream and largest franchisor of fresh-popped popcorn—has deployed Nudge Rewards' mobile communication platform across franchise locations, equipping frontline employees to keep up with the intense demands of COVID-19 training, as well as ramping up new hires.
Dippin' Dots & Doc Popcorn's mission has always been to build a portfolio of leading snack food franchises, while creating the ultimate one-stop snack spot that satisfies both sweet and salty cravings for customers. As locations reopen across several states, operational complexities are presented by a variety of physical formats, including stores, kiosks, and pushcart stands. Keeping track of franchisees' operating status, local regulations, and new and existing frontline employees, presents an unprecedented set of challenges, in addition to the implications of rapid training and reinforcement required for staff.
Dippin' Dots & Doc Popcorn selected Nudge last fall to keep their frontline up-to-date on the latest brand information and enable franchises to build a community within their teams. It's been during the reopening phase that they have been relying on Nudge for real-time feedback loops with the field, as well as delivering immediate and effective frontline training to keep locations operating at the high standards customers are seeking as they return.
Communicating across brands with a diverse mix of franchise locations with varying priorities, geographies, and staffing levels creates challenges for business leaders who need to quickly and effectively communicate with frontline employees—a problem easily solved by Nudge.
"When we selected Nudge last fall, no one could have predicted what the quick-service landscape would look like at this moment," said Steve Rothenstein, Senior Director of Franchising. "We're grateful to have had the foresight to invest in technology that would connect our brand and franchises with frontline staff and are finding it more useful than ever now that we're adapting so rapidly to modifications of COVID-19 training from local, state and federal authorities."
"As brands are thinking about how to reopen, some are already at a clear advantage because they're equipped to activate their frontline and stay agile," said Jordan Ekers, Nudge co-founder and Chief Customer Officer. "We're proud to partner with forward-thinking brands like Dippin' Dots who have made investments in their frontline and are reaping the benefits as they race to bring to life a new guest experience."
About Dippin' Dots
Dippin' Dots has produced and distributed its flash frozen tiny beads of ice cream, yogurt, sherbet and flavored ice products since 1988. Made at the company's production facility in Paducah, Kentucky, Dippin' Dots distributes its unique frozen products in all 50 states and seven countries through its franchised and direct distribution network.
About Doc Popcorn
Using whole grain kernels, proprietary flavor blends and other high-quality ingredients, Doc Popcorn handcrafts a wide variety of fresh-popped specialty flavors of popcorn free of trans fat, MSG, artificial colors and preservatives. Born in Boulder, Colo., Doc Popcorn started franchising in 2009 and has been consistently recognized as one of the top food franchises in the country by Entrepreneur's Franchise 500.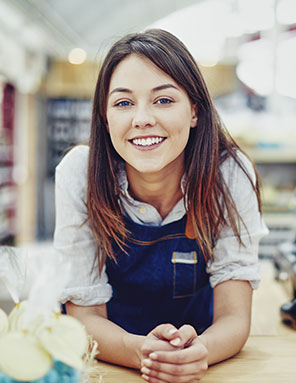 Nudge launches frontline activation suite to accelerate brand recovery
Leading communications platform announces game-changing solutions to optimize the re-opening of physical locations and advance frontline performance under new market conditions.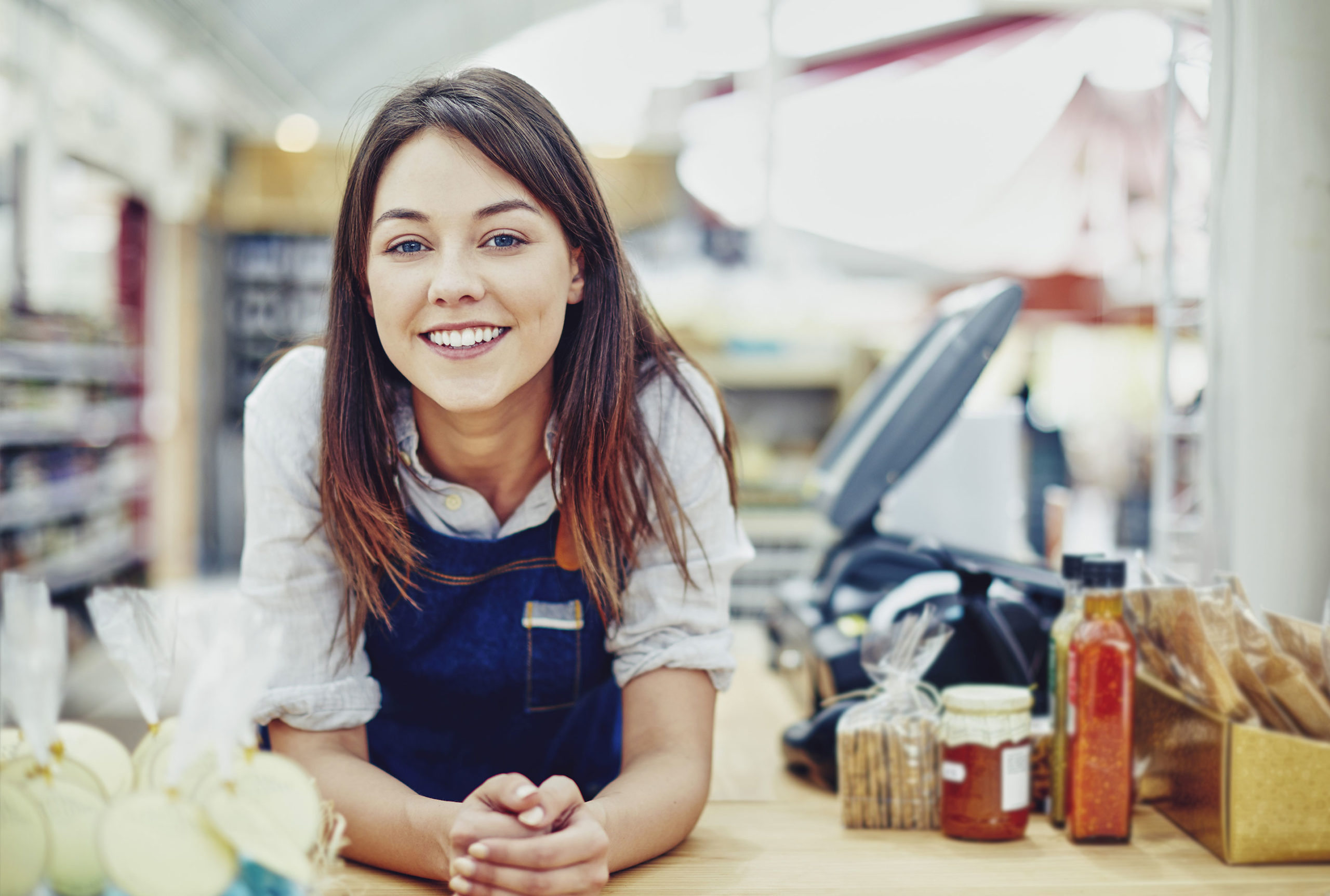 Toronto, Canada—April 21, 2020—Nudge Rewards, a leading communications platform for frontline employees, today announced the launch of a suite of features designed to activate dormant frontline workforces — preparing retail, foodservice, and hospitality brands for re-opening and accelerating employee performance in a new world of heightened consumer expectations. To acknowledge new workforce realities, Nudge Rewards will help brands successfully navigate four key stages of recovery, including recruitment, onboarding, field execution, and sustained performance, while also advancing existing benchmarks for employee engagement and satisfaction.
As multi-unit brands prepare for the race towards the re-opening of physical locations, flexible organizations that are quick to adapt and invest in their people will be ready to accelerate performance and meet the new, intensified expectations of employees and customers. Nudge Rewards equips businesses with the tools required to mobilize their workforce and return to increased levels of productivity by providing the information, inspiration, and insights that previously furloughed or distressed employees will need to achieve new standards of success.
With Nudge Rewards' frontline activation suite, brands can:
Expedite team recruitment and scale-up frontline workforces by re-engaging furloughed employees and driving vetted referrals when they are needed most
Accelerate frontline onboarding with behavior change campaigns on auto-pilot and reinforce training with micro-communications
Empower managers to assign tasks that will optimize the in-location experience and reintroduce the brand to consumers with evolved expectations
Capture insights with pulse surveys, like willingness to return to work, to optimize team productivity, satisfaction, and retention
"One of our values is to foster a shared responsibility for the well-being of our staff, guests, and community," said Dan Leonard, President of Margaritaville Hospitality. "We have been so fortunate to have Nudge on our team; effectively reaching our staff in their most challenging times and preparing our partners and workforce for future opportunities to come. We are confident that Nudge Rewards will help accelerate our pace of reopening and activate a better experience – for both our staff and our guests."
"In this new environment, we know frontline associates will play a more critical role than ever before, having a make-or-break impact on brand recovery," said Jordan Ekers, Nudge Rewards Co-Founder and Chief Customer Officer. "For forward-thinking organizations that are eager to get ahead of the competition and gain market share, we're here to help and, together, we can ensure your frontline workforce is ready to get back to work."
Learn more about our new capabilities and how the frontline activation suite can support your brand and workforce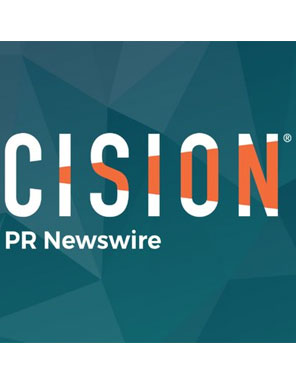 Nudge Rewards Continues Rapid Growth Trajectory With Appointments of New CRO and Industry Veteran Board Members
TORONTO — Feb. 4, 2020 — Nudge Rewards, a leading solution in mobile frontline communication for experience-driven brands, today announced the addition of a new Chief Revenue Officer and two new board members to its leadership team to build on aggressive revenue plans, following record growth in 2019. Brennan Wilkie joins the company as Chief Revenue Officer and Bryan Pearson and David Brennan join as new members of the board.
Over the past three years, the company has seen brands increasingly realize the need for more relevant and effective ways to engage with their frontline to drive consistent execution and performance, while strengthening employee retention during the most challenging job market in decades. In the past year, Nudge has grown revenue by 200%, increased headcount by 40%, and announced a $12 million growth round led by Chicago-based Jump Capital.
Brennan Wilkie will lead the company's next phase of growth, leveraging his 15 years of expertise in employee engagement and customer experience intelligence. At InMoment, a leader in cloud-based feedback and analytics, Wilkie championed two roles concurrently — SVP, Customer Experience Strategy and Country Manager, Canada. One of the industry's most thoughtful CX practitioners, Wilkie shares Nudge's passion for the inextricable link between the customer and employee experience, and will play a pivotal role in helping forward-thinking brands unlock the potential of their associates.
As the former President and CEO of LoyaltyOne, Bryan Pearson joins the Nudge board, bringing a depth of experience in retail and enhanced shopper experiences. Drawing on deep subject-matter expertise gained from hundreds of millions of customer and employee relationships over 25 years, he's an influential thought leader on enterprise loyalty, having written two books in The Loyalty Leap series, along with regular contributions to top-tier news publications.
David Brennan was also recently appointed to the Nudge board. His breadth of leadership roles notably includes General Manager of Achievers, where he helped develop employee recognition as a market category, changing the way enterprises think about employee engagement and technology as an enabler. He's currently Chief Financial Officer at smart home device company ecobee.
"On behalf of Nudge and our board, I'm beyond thrilled to welcome Brennan, Bryan, and David to the team," said Lindsey Goodchild, CEO of Nudge Rewards. "These are highly accomplished executives who have transformed not just a company, but an industry (or two!). We feel more confident than ever in our next chapter of growth as we realize our plans to digitally transform the experience for the largest workforce in the world."
With eight quarters of consecutive growth, Nudge is solidifying its market leader position as experience-driven brands seek out more meaningful ways to connect with their frontline associates.