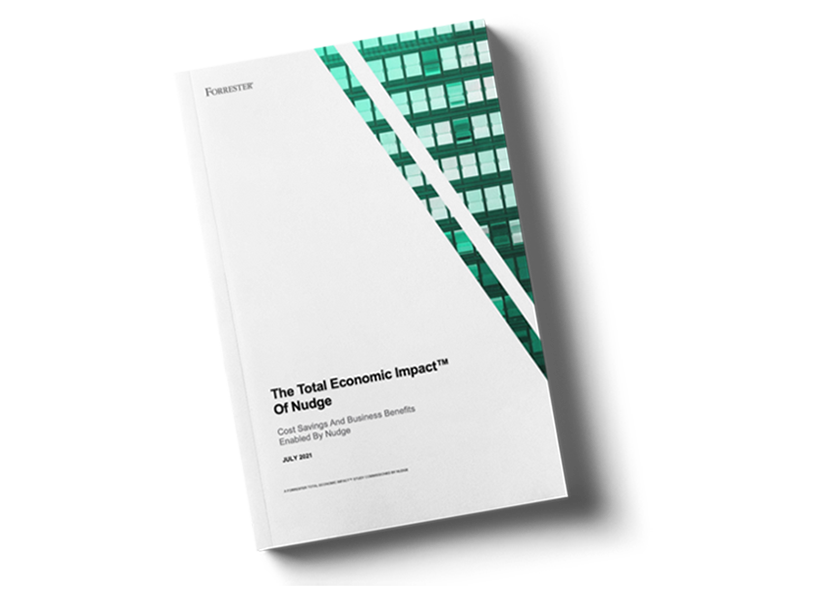 The Total Economic Impact™ of Nudge
Download Forrester Consulting's Total Economic Impact™ Study to see how Nudge delivers 484% in ROI!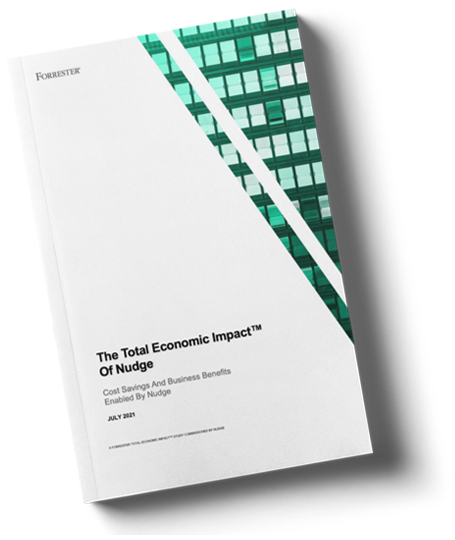 The quantified benefits that Forrester identified in this Nudge-commissioned Total Economic Impact™ study are: 
A 3-5% increase in same store sales:

education and readiness campaigns improved associate confidence and their ability to recommend, cross-sell, and upsell. 

A 10% higher retention rate for deskless workers:

improvements in the employee experience lead to a more engaged workforce and less turnover. 

60% more efficient communication between store managers and frontline

: replacing fragmented, time-consuming communication channels led to quicker and more effective communication, and shorter pre-shift meetings. 
The results? A three-year 484% return on investment.
Download the study to see the full calculations and key findings. 
For its Total Economic Impact™ study, Forrester interviewed four Nudge customers in the retail and foodservice industries to understand the costs and benefits associated with the investment. The key challenges that Forrester found Nudge solves for are: 
Diluted and inconsistent communication

to the frontline

Low employee engagement leading to

high turnover

COVID-19 driving the

need for agile change

and timely communication 

Store

managers overwhelmed

by communication with head office

Legacy one-way communication

channels lack analytics

or real-time insights
Want to learn more? Download the study today!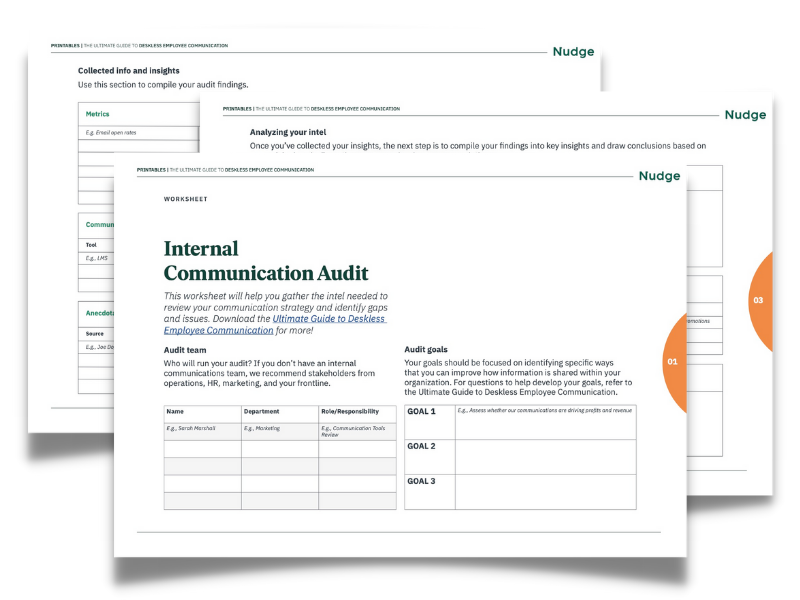 Internal Communications Audit Worksheet
Set goals, collect information, and analyze the intel, all in one place.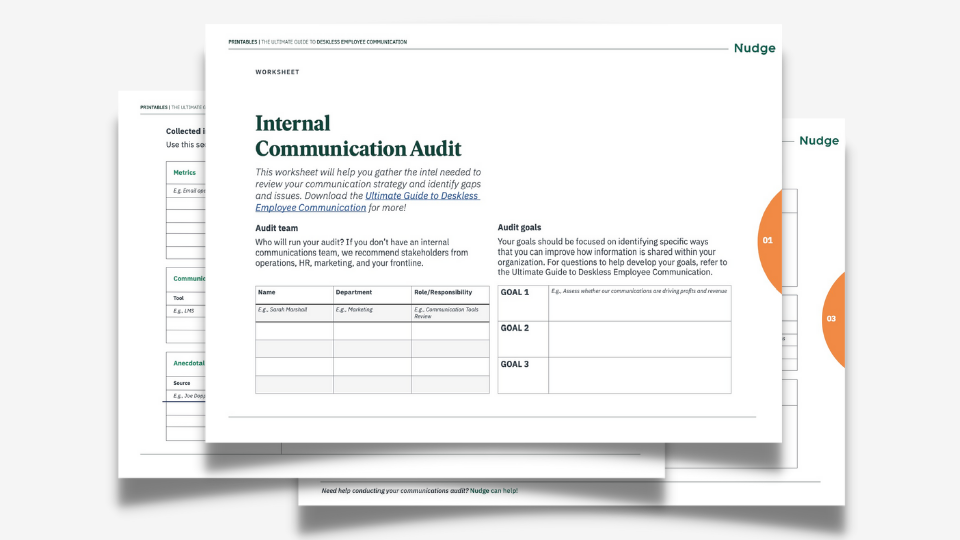 An internal communications audit reviews how well your organization distributes information to your workforce, which is especially crucial for organizations with deskless and frontline employees, who spend little face-to-face time with management and don't have regular access to computers. These workers need a specialized communication strategy, and an audit is the first step. 
Not sure how to get started? This internal communications audit worksheet will help! This handy doc will help you set goals, collect information, and analyze the intel – so that you can start creating an effective communications strategy.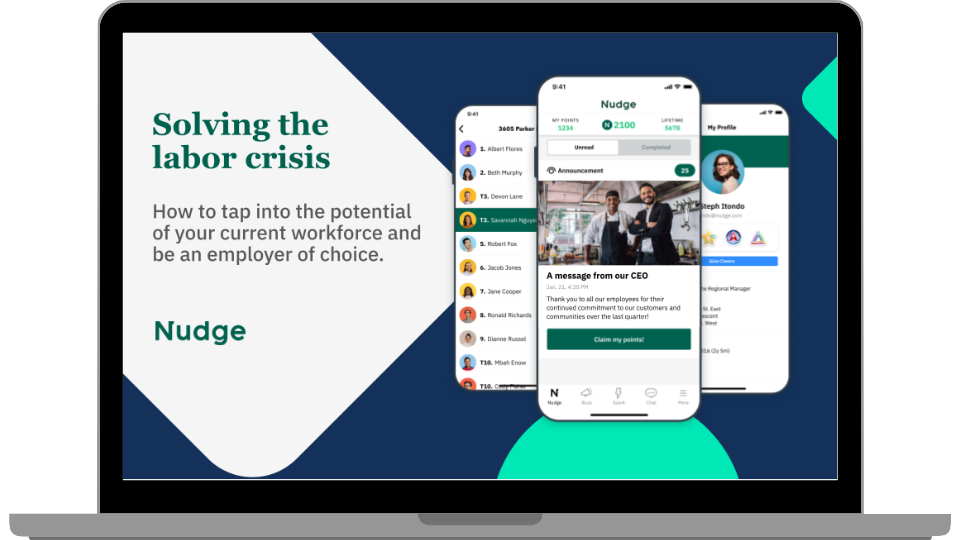 Solving the labor crisis
How to tap into your current workforce and be an employer of choice.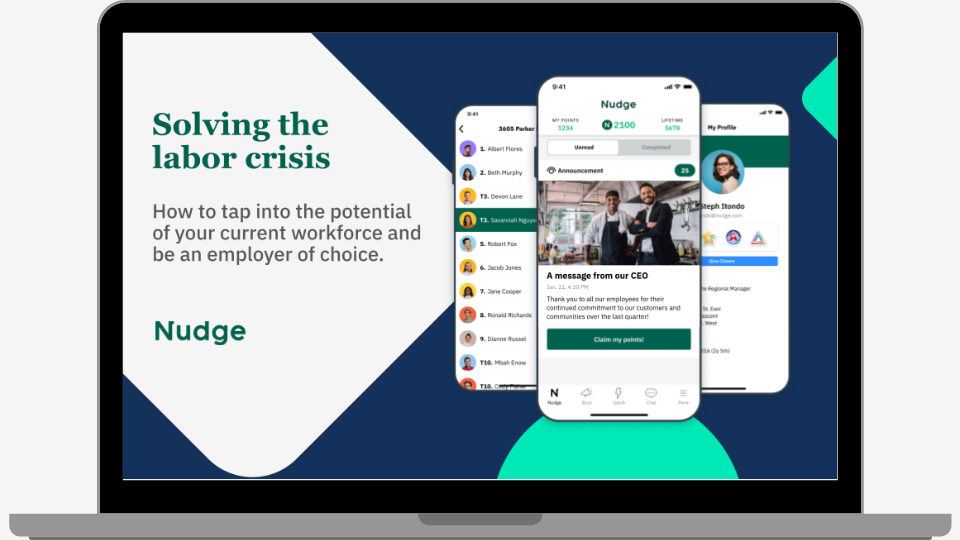 With vaccination rates increasing, restaurants are starting to return to a semblance of normal operations. But as The Great Return continues, a new challenge emerges: finding workers. Employment subsidies, burnout, return trepidation, and competition across the labor market are coming together to annihilate the restaurant talent pool.
It's time to flip the script. This webinar shows restaurateurs why they need to forget about those long-unrequited dreams of full labor capacity – and instead focus on tapping the (perhaps unchecked) potential of their current workforce through better engagement, empowerment and communication.
Listen as Brennan Wilkie, CRO at Nudge, the digital employee communications platform, and Michael Fiato, SVP of Guest Experience at Eurest and author of The Hospitality Edge: Stories to Delight Your Guests, Spark Your Culture and Ignite Productivity, discuss the talent pool, the employee experience, and staying agile and responsive in changing times.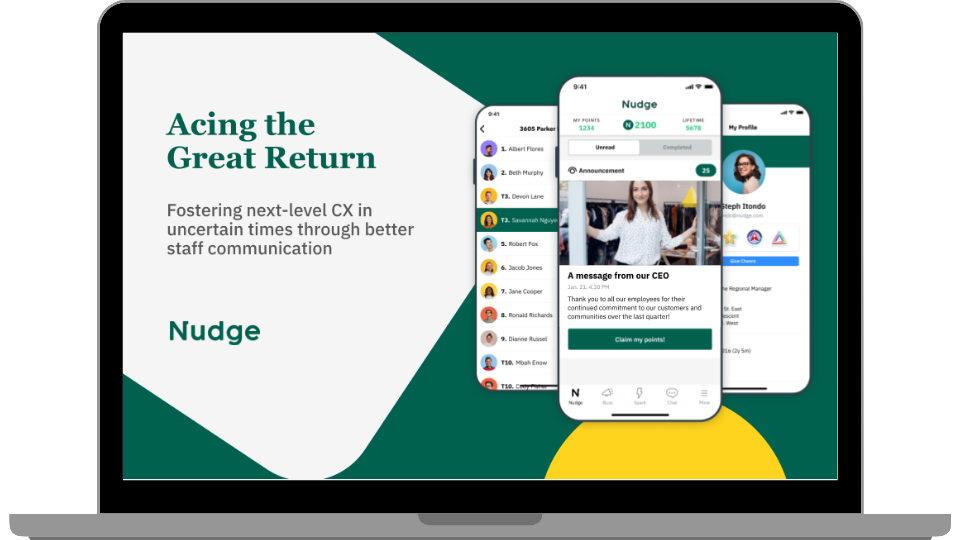 Acing the Great Return
 Fostering next-level CX in uncertain times through better staff communication.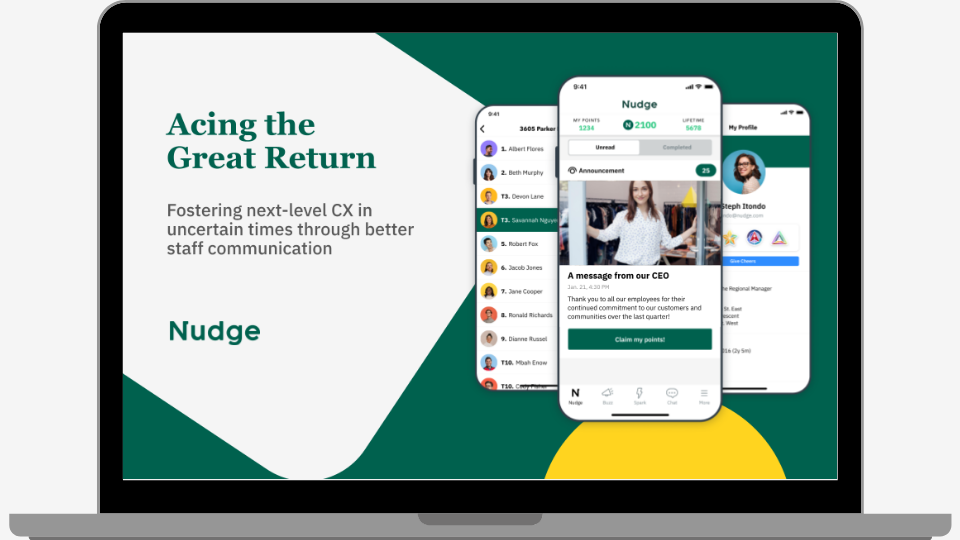 Now more than ever, retailers are looking to stay profitable and resilient by elevating the all-important customer experience. But in these uncertain times, so much change in the physical retail space has made it difficult to focus on meaningful – and consistent – customer interactions, not to mention bridging the gap between physical and digital experiences.
The secret to nailing the Great Return? Investing in your frontline communications and feedback loop. Your associates have a critical role to play in enhancing the customer experience – and helping your organization stay agile and responsive by tapping into your consumers' expectations, attitudes, and behaviors.
Learn from Rachel Huckle, the Chief Retail Officer at Staples Canada and Nudge's COO, Jordan Ekers on how you can help your organization stay agile and responsive in uncertain times by fostering next-level CX.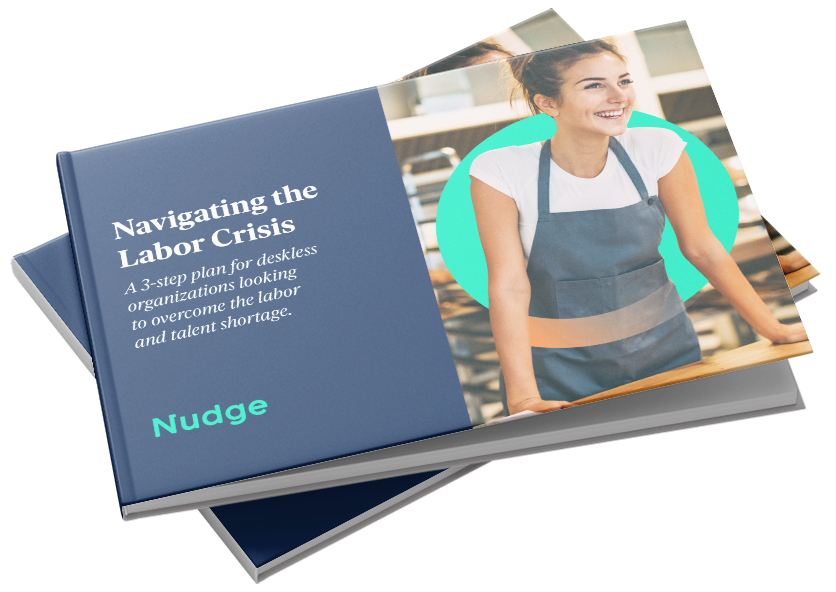 Navigating the Labor Crisis
 A 3-step plan for deskless organizations looking to overcome the talent and labor shortage.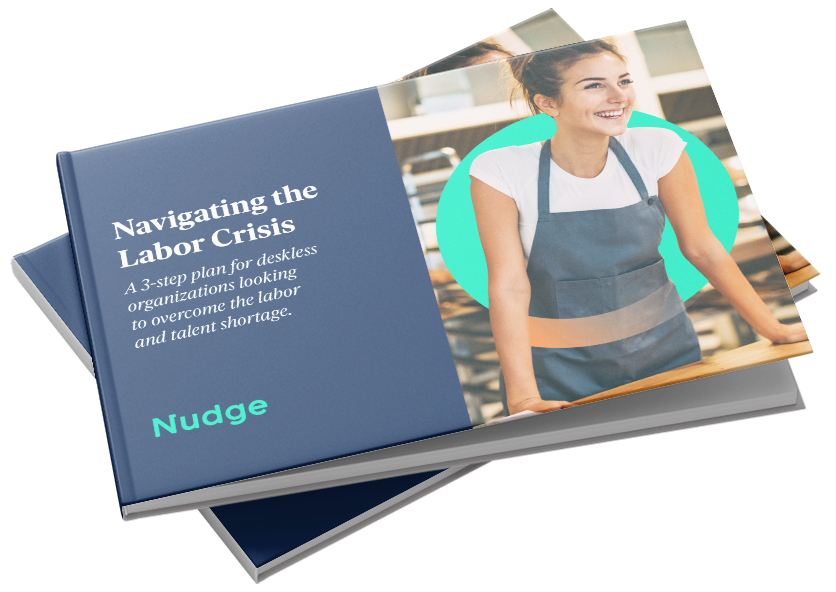 As the uncertainty surrounding the pandemic lifts, organizations across the country have reopened. But a new normal has emerged that brings with it a new challenge: the labor shortage. Now more than ever, organizations need workers in place to keep operations running smoothly and effectively, but the labor crisis is making it difficult for businesses to boost their numbers. Worried? We're here to help! This guide will provide a 3-step strategy to finding, developing, and retaining labor during a shortage. 
Download the guide to learn:
How to become an employer of choice to attract candidates

Leveraging onboarding to get the most out of your hires

Developing your existing workforce at scale

4 ways to mitigate unnecessary employee turnover