Time and time again studies show that companies with highly engaged employees outperform their competitors. With spring well on its way, why not dust off your employee engagement and communications strategies to create teams that are knowledgeable, engaged, and empowered to deliver memorable customer experiences?
In this post, we'll uncover how brands are using three powerful Nudge types—targeted, bite-sized information sent to frontline staff using our mobile solution—to conquer engagement and communication challenges within retail and foodservice organizations.
The following Nudge types have helped brands drive action, build community, and increase performance through replicated behaviors across organizations.
The Golden Nudge
A knowledge-based question, if answered correctly equals an entry into a prize draw.
Have a limited rewards budget for your frontline teams? Then, the golden Nudge is what you've been looking for. An effective way to generate excitement across an organization, while not breaking budgets, the Golden Nudge is a knowledge-based question that's asked, and if answered correctly, frontline employees get entered into a prize draw.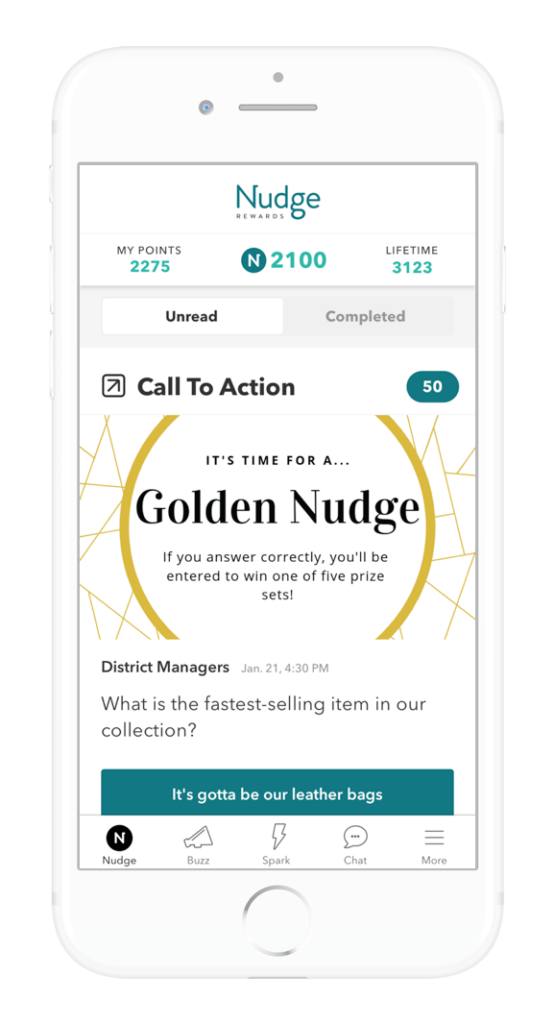 Brands who have used the golden Nudge have garnered high levels of engagement from their frontline, which has helped drive business results.
How can you use it?
Best practice is to include 1-2 Golden Nudges per month in your campaign schedule, depending on your rewards budget. Then, follow-up the week after with a Nudge to announce the winner(s).
The Employee Highlight
A Nudge that celebrates the work of an employee through storytelling.
Showing that you value the hard work of your employees is essential to driving key business results. With the Employee Highlight Nudge, organizations can share stories, with their entire frontline, of outstanding employee behaviors, helping to build community and culture. Studies show, having programs that demonstrate a business valuing their employees and the work that they do increases motivation and job satisfaction. It's a win-win.
How can you use it?
Start by connecting with frontline managers to help identify an employee to feature. From there, create a short story about the employee—their time with your brand, their role, what they do well, and how they stand out. With their permission, include a photo to make it fun and personable!
The Spark Showcase
Showcasing outstanding ideas from Spark sessions through a Nudge.
Spark is a great place for frontline staff to share ideas and best practices with head office and fellow teammates, across various locations. However, with high message volumes, outstanding ideas can sometimes get lost. That's where the Spark Showcase Nudge comes into play. By showcasing the best ideas, through a series of Nudges, you'll be able to replicate ideal behaviors across your organization, that ultimately boost the customer experience and drive sales.
An example? Imagine you ran a Spark session on "what are your best tips to sell our new product to customers?" When your employees share their ideas, you'll choose the highest rated tip and highlight the idea along with the associate through a Nudge so that the rest of your associates can try them out!
How can you use it?
Using the new Feedback Metrics Dashboard, you can review and determine the top Spark posts for the desired Spark sessions, and feature 1-2 ideas shared in a Nudge. Consider also including a call-to-action in your Nudge to encourage other teams to put the ideas to use.
There's no better time to have a fresh outlook on the way your organization educates, communicates, and engages with your frontline staff. Using creative content, like the examples described here, helps challenge, excite, and show employees that they're valued. You'll be able to break down communication barriers between locations, increase employee satisfaction and productivity, deliver on a memorable customer experience, and ultimately, increase your sales.