Golf Town, Canada's golf superstore has partnered with Nudge Rewards to reinvent the way they drive team performance across their Canadian retail operations. Watch the customer story here: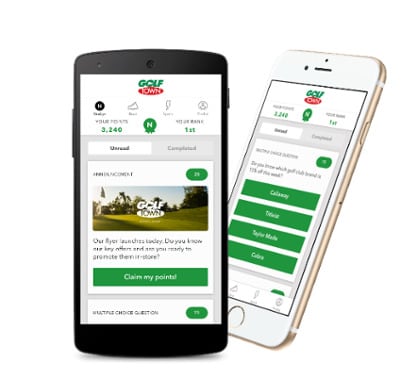 With a vision of delivering an exceptional customer experience, Golf Town recognized the importance of ensuring their frontline associates are well trained, knowledgeable and passionate about delivering on their brand promise. In order to facilitate the delivery of such an experience, Golf Town placed priority on the role of communication to empower the team with the right information to drive the right outcomes.
In June, Golf Town launched Nudge Rewards to engage, educate and reward frontline managers and team members. Their results to date are unprecedented. Within five days of launch, Golf Town achieved 78% adoption across their entire frontline workforce, and more impressive, have achieved a 75% response rate using the Nudge app.
"Nudge has achieved positive traction for our associates Canada-wide, and we're happy to see our teams engaging and sharing ideas. We want to be ahead of the curve, and Nudge will help us achieve that and be recognized as a retailer who's looking at mobile device technology as a means for accomplishing more as a company," says Sue Gilpin, Director of HR at Golf Town Ltd. 
"We're thrilled to have the opportunity to work with our partners at Golf Town to help improve the way they support their frontline staff in delivering an exceptional experience. We now live in a world of the 'knowledgeable consumer,' and brands that are able to empower their staff to meet the expectations of their customers are going to be category leaders" says Jordan Ekers, Chief Customer Officer at Nudge Rewards.