We talked about retail task management – now it's time to delve deeper into the world of restaurant operations.
For anyone operating in the foodservice industry the past few years, it's been a challenge. Maintaining profitability has been an uphill battle, with imposed closures and mandated social protocols prohibiting establishments from operating at full capacity, preventing them from providing the experience that many restaurants thrive on.
During this time, facilitated by impacts of the pandemic, a digital acceleration has occurred, forever transforming the way restaurants interact with their customers – and, potentially, their staff. If implemented thoughtfully, digital technologies can serve to support and streamline business processes and improve restaurant operations exponentially. And, given how important a prepared, organized, and motivated frontline is to the success of any restaurant, organizations will need to prioritize the digitization of task management processes as part of this digital acceleration, enabling their staff with the task management tools they need to succeed, resulting in more efficient task completion, safer food handling, increased performance, improved guest experiences, and so much more. 
With that, here's our guide to improving restaurant operations through effective task management. 
What is task management?
Simply put, task management is the process by which foodservice organizations and operators can standardize and scale the tasks that need to be completed at their locations on a regular basis. Effective task management is crucial at any frontline organization, but given the foodservice world's volatile nature and dispersed workforce – combined with the guest expectation for consistent, memorable experiences – it becomes particularly critical to successful restaurant operations. 
With the development and implementation of a strong task management system and processes, restaurant managers are provided greater oversight concerning the daily tasks related to running a successful restaurant, as well as those related to individual employee shifts.
In addition, effective task management procedures and protocol ensures that employees have a clear understanding of the roles and duties that they're responsible for and the overall goals and objectives that the organization strives to achieve. This clear line of communication from the individual employee through the location, region, and overall brand, takes time and effort – but it's the only way to maintain consistency and efficiency, ensuring that customers receive the same level of service and great experience, despite the location they visit. 
Task management will look slightly different at any foodservice organization, but a restaurant's daily task list usually includes opening and closing tasks and procedures, as well as all other tasks that are to be completed by employees of the store throughout the day. These lists are often broken up between the front of house and back (or heart) of house staff. 
Here's an example of a front of house opening task list:
Conduct security inspection of premises

Activate lights and other devices and appliances

Perform opening housekeeping duties

Conduct and record cash count

Activate POS equipment

Launch POS software

Enter daily cash float

Conduct inventory check and restock, if necessary

Prepare dining area

Coordinate 'specials' with back of the house, if necessary

Open the doors for business
Here's an example of a back of house opening task list:
Turn lights and kitchen appliances on

Perform opening housekeeping duties

Check cold table levels and replenish, if necessary

Conduct dry storage, fridge and freezer inventory and make order notes

Prepare soup of the day

Prepare specials and communicate them to front of the house staff

Conduct prep of items to be used frequently throughout the day

Open the kitchen for business
Task management: Supporting optimized restaurant operations
Why is foodservice task management so important? In order to ensure an optimized operation and the delivery of an experience that meets and surpasses the expectations of restaurant patrons, employees have got to be set up for success. They've got to be comfortable and confident within their roles and be armed with the right information to help them do their jobs to the greatest effect. And, if this is achieved, satisfaction within their roles will increase exponentially, helping to combat one of the biggest scourges within the foodservice industry today.
According to the 2021-2022 release of The Deskless Report: Foodservice Edition, turnover is the biggest challenge faced by foodservice leaders today. When combined with the report's reveal that an alarming 38% of foodservice employees currently want to quit their jobs, there's a very obvious issue to address. However, when analyzing some of the top reasons for workers to want to leave their jobs – poor management or working environment, staffing issues, overworking and burnout – it becomes just as obvious to understand the ways in which an effective task management system can help to alleviate the current employment dilemma. 
With the right strategy and tools, the implementation of a smart task management system can help restaurant owners and managers align their staff with the right executables. It can help to create a winning, team environment that's rooted in accountability and cooperation, and provide their staff with the motivation and encouragement to go above and beyond, expending discretionary effort that ultimately benefits their progression, the experience enjoyed by patrons, and the profitability of the business.
Other benefits resulting from effective task management include:
Clearer understanding among staff of goals and objectives

Greater awareness and appreciation for the roles and responsibilities of others

Increased morale among an empowered group of employees

Greater innovation and willingness to go above and beyond requirements of job
The importance of scaling task management
Running a successful restaurant can be complicated. The speed at which service is required to move throughout the day can lead to a level of volatility that other industries can't even imagine. As a result, it can prove to be incredibly difficult to ensure that all staff are moving in the same direction toward the attainment and completion of the same goals and objectives. 
However, when you multiply the challenges within a single restaurant across a national (or global!) brand, the job of uniting and aligning staff becomes that much harder. And, if communication is an issue, as the Deskless Report suggests that it might be for many, managing consistency across stores is nearly impossible. The report reveals that 94% of foodservice leaders feel that they're sending meaningful, quality communications to their employees. Yet, 54% of their workers say that the communication they receive is only somewhat to not at all useful.
When organizations enhance their communications through the development and leveraging of effective task management systems and processes, engagement among employees increases. And, anyone who's ever worked within the fast-paced foodservice industry knows, an engaged employee is a motivated and productive employee. By ensuring the same consistent message across multiple locations and groups of employees, foodservice district and regional managers responsible for networks of stores are better equipped to align their staff's efforts and elevate the experience offered to customers and employees, resulting in success for the business.
Digitally enabling foodservice staff with the right task management tools
With the right tools in place, the implementation and maintenance of a task management process at scale becomes infinitely less daunting. 
Using the latest in digital technologies to support an effective task management system allows for a number of powerful outputs. First and foremost, the right digital solution provides restaurant owners and managers with the ability to consolidate and track information related to tasks and performance for individual locations as well as across entire networks of stores. And, by leveraging mobile devices to communicate messaging to employees concerning tasks and performance, restaurant operators are enabling their staff and empowering them to excel within their roles. 
Other benefits that rise from the centralization of information include:
Head office can manage and direct SOPs, opening and closing checklists for different shifts and staff,

pre-shift team huddle agendas

, and any other messaging that might benefit employees and the organization as a whole

All employees, despite the location they work at, have the same access to the same information, ensuring a deep understanding among workers and enhanced operational consistency

District and regional managers are better able to monitor at scale, resulting in a clear understanding of the performance of each store across the network

Operators can cultivate and develop a culture of cooperation and teamwork, guaranteeing a clear and collective understanding among all employees concerning the tasks that need to be completed in order to achieve success

Head office can easily source feedback and facilitate best practice sharing to better understand the employee experience as it pertains to restaurant operations – and quickly identify ways to improve it
3 restaurant challenges that task management can solve for
Scaling task management to reach your entire foodservice workforce can do wonders for driving efficiency, safety, productivity, and more.  Here are some of the common remedies provided by an effective task management process:
1. Scaling onboarding 
With one of the highest turnover rates of any industry, restaurants need consistent onboarding processes that ramp up staff quickly. When restaurants leverage digital task management tools, new hires are more easily and seamlessly onboarded and can hit the ground running in less time than by using conventional tactics, providing them with a clear understanding of the standards and processes of the brand and the expectations of them as an employee and ambassador of the restaurant.
2. Addressing knowledge gaps 
When task assignment is executed through more traditional or legacy approaches (like clipboards or word-of-mouth) there are less (or no) opportunities to identify completion barriers or knowledge gaps that are preventing staff from executing on their daily tasks. Digital solutions provide the analytics and supporting resources to identify and remedy this challenge.  
3. Reducing manager burnout
Managers wear many hats. When task management is executed manually by the managers, it needlessly increases the workload, while also increasing the chance of inconsistencies. On the other hand, when employees are empowered with the information they need through a scalable digital solution, managers can focus on higher level responsibilities with greater focus and intent.
Choosing a restaurant task management tool
When exploring potential digital task management solutions to implement with in your locations, there are a few things to keep in mind: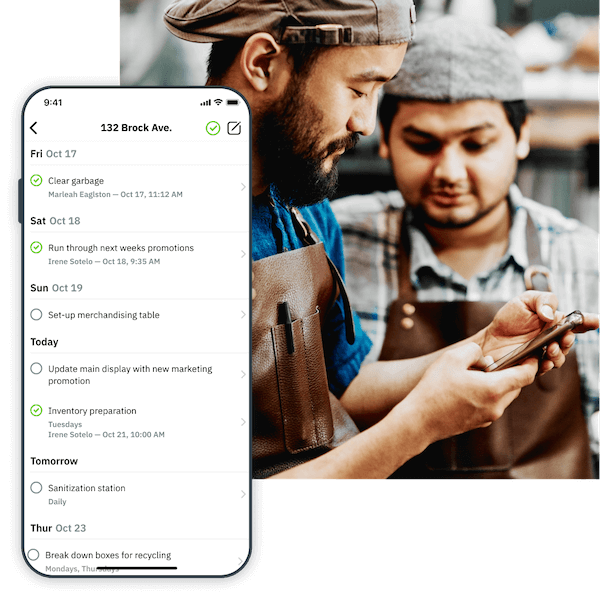 Consider the user experience 
Make sure that any tool you're considering is suited to your staff. Keeping the tool mobile-friendly with an easy to navigate interface for ease of use is a safe bet. 
Make it compatible
It's critical to consider solutions that are part of a larger frontline enablement suite of tools and services, which may include communication, feedback, training, and other functions. This enables centralization of information for the organization as a whole. 
Future-proof your technology 
Let's face it: the foodservice world is evolving at a rapid pace. Make sure that the technology explored is adaptable and has the ability to evolve with the changing digital needs of the business. 
Psst… Did you know that Nudge's guided task management feature provides everything you need to keep your foodservice staff focused on the right tasks – and get oversight into what may be at-risk? Learn what Nudge can do here.
Tips for leveraging task management to improve restaurant operations
The ways in which restaurant owners and managers establish and implement solutions to help organize tasks and manage and support employee performance vary. However, in seeking to receive their greatest benefits, they should always be used with the goal of setting employees up for success and enabling them with the digital tools they need to perform to the highest standard.
In order to achieve this objective and optimize the effectiveness of task management tools, operators will want to look beyond the rudimentary and utilitarian functions. To engage and empower staff and begin nurturing a culture of teamwork and performance, consider the following tried-and-tested tips:
Focus on clarity
Properly engaging and enabling foodservice staff means providing them with clear and concise direction, and sharing how proper completion of their tasks contributes to the overall success of the team. Be clear and concise to get your message across.
View performance holistically
A task management tool is all about guiding and informing, not auditing. With that in mind, avoid jumping to conclusions as a result of an incomplete task or two. Rather, use the information long-term to identify trends around locations or regions that might require additional support or resources to succeed. 
Celebrate achievements
Digital task management tools allow head office to track and monitor real-time performance, which means they can easily celebrate achievements reached by individuals, stores, or the entire network, making it an incredible team building tool.
Make it fun
If you want your foodservice staff to stay engaged and loyal, you want them to enjoy their work – finding ways to make the process fun is always win-win. So, consider ways to implement a scoring system for points that can be applied to staff discounts or gift cards, turning mundane duties into opportunities to excel.
—
There's no doubting the fact that the foodservice industry and restaurant experience has changed dramatically as a result of impacts related to the pandemic. And, the changes that have occurred have likely left indelible marks. However, with the right strategy, task management system and processes, as well as the digitally-enabling tools to help support it all, restaurant operators will have the opportunity to realize a number of different benefits that provide the power to raise the bar concerning the experiences received by both patrons and employees, and to increase the success and profitability of their establishments.