As the war for talent rages on, frontline and deskless organizations are ever-searching for ways to entice (and retain!) top-performing workers. And a tried-and-true recruitment tactic that all organizations should be leveraging is an employee referral program. 
What is an employee referral program? 
At its core, an employee referral program encourages current employees to tap into their network to recommend candidates for open roles. Then often include an incentive (cash or otherwise) if a referred hire stays with the organization for a set amount of time. A proper employee referral program lets you tap into the networks of your top performers that you otherwise might not be able to reach. 
The power of employee referral programs
According to CareerBuilder, employee referrals are the number one source of hire, with 26% of external hires coming from this channel. The same report found that 88% of organizations rank employee referrals as the number one source for high-quality hires. And referred hires have higher retention rates, a metric all organizations are watching closely right now because it keeps operations flowing and productivity on track. As one Forbes writer aptly put it, "Let's toast the holy grail of hiring."
Nudge's Refer a Friend feature brings employee referrals to their smartphone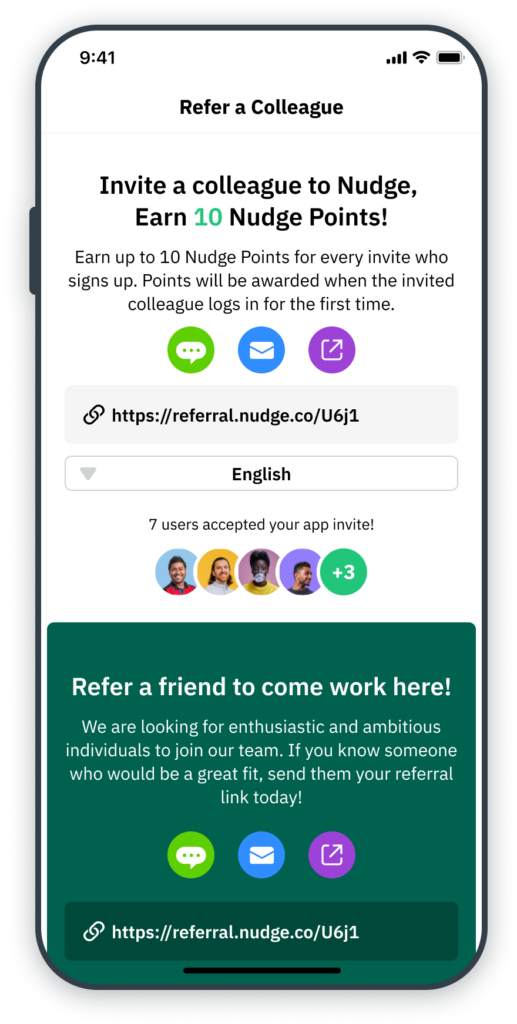 Think of your employee referral program like your loyalty program. To get the most out of it, you need to ensure your workforce is educated about it – and empowered to use it.  
Nudge's Refer a Friend feature makes this simple and easy by embedding an employee referral program directly into your digital communications platform. The customizable referral page lets employers share details on open roles and include a link to their careers page or ATS, so employees can share career opportunities through text, email, or link right from the app.  
Embedding an employee referral program right in your communication tool not only makes it easy for staff to access referral info – it also streamlines and scales the process. Whereas before managers would have verbally encouraged their teams to refer people from their networks, Nudge's communication platform makes it easy for head office to nudge every employee directly to participate in company-wide recruitment efforts.
Organizations using Nudge can take their employee referral program one step further by baking employer branding messaging and employee benefits into their communications campaigns. This gives existing employees the information they need to show off their organization as an employer-of-choice to potential hires in their network. Nudge's points tool can gamify the process even further, incentivizing employees to engage with employer branding information, details on the referral program, and more. 
—
Interested in learning more about how Nudge makes employee referrals easy and effective? Speak with our team today!