I love customer loyalty programs. They're in my blood. Before I co-founded Nudge, I worked with Loyalty One to develop a new line of business for Air Miles; years before that I was a frontline associate myself, responsible for creating that meaningful customer experience and building customer loyalty. 
And so I saw first-hand how effective incentive and loyalty programs can be. After all, customer loyalty programs are a no-brainer for many retail, hospitality, and foodservice organizations looking to tap into the benefits of customer and guest loyalty. Whether you're offering up rewards, special deals, or a sense of status, loyalty programs are a fantastic way to increase revenue and return customers. In fact, one recent study on loyalty programs found that 70% of consumers are more likely to recommend a brand with a good loyalty program, and 77% say that loyalty programs make them more likely to continue doing business with brands. 
There's an additional benefit to organizations that implement a customer loyalty program: data. Using a program to monitor guest or consumer habits means organizations can make personalized offerings and fine-tune the customer experience like never before. And customers are on board; the same study found that 87% of loyalty program members want their behavior monitored in order to receive personalized engagement.
But here's the thing: as effective as customer loyalty programs can be, I know from experience how inconsistent the in-store execution of these programs can be. Without a way to engage with your entire workforce, there's no way to fine-tune how everyone is talking about the program – and identify what tactics work the best for boosting the program company-wide. 
That's why it's so exciting to me when I can show organizations how Nudge can take their customer and guest loyalty programs to exciting new places. When you have a direct line of communication with your workforce, you can drive activation and adoption to the next level. 
Here are four ways Nudge can boost your loyalty program:
1. Nudge gives your team the loyalty program info they need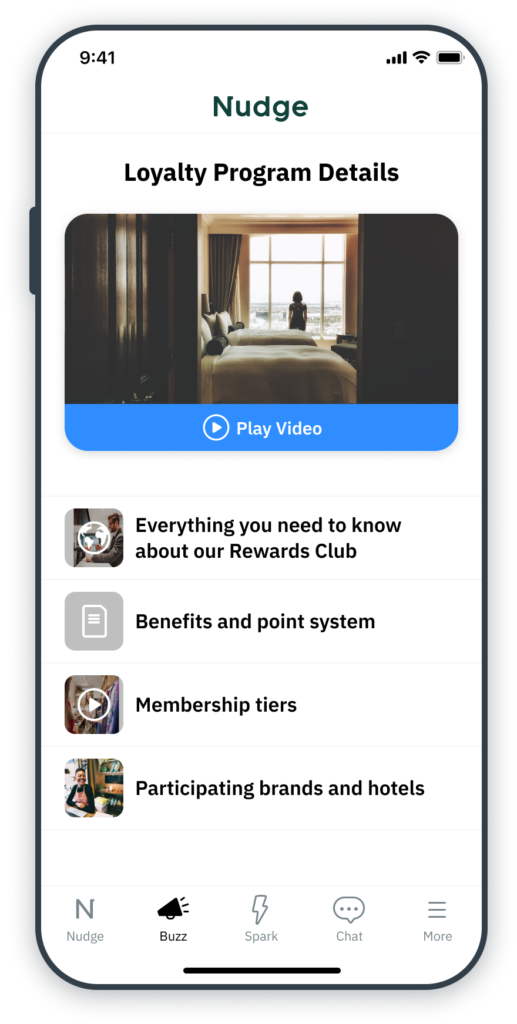 When it comes to getting customers and guests to join and interact with a loyalty program, it's so much more than a sign at checkout.
Your employees need to live and breathe your loyalty program; they need to know it inside and out. If your team doesn't know how to talk about the program, if they don't know how to sign people up, if they don't know what offers are most enticing to what customers, you've lost out on an incredibly valuable opportunity to improve conversion and gain a loyal customer.
But it can be a challenge to share information across an organization – how do you ensure all your frontline employees are all getting the same information that will empower them to really sell your program? How do you find that tactical consistency that's going to scale up sign-ups and activation?
The answer, of course, is Nudge. With our digital communication platform, it's easy to disseminate information to your entire workforce by leveraging their favourite device: their phones.
With Nudge, core information about your loyalty program can be kept in a central communication hub, and bite-sized targeted communications will keep your team in-the-know about program details, updates, and more. You can even use knowledge quizzes and surveys to make sure everyone has the info they need to sell your program. 
2. Nudge keeps loyalty program initiatives top-of-mind
Whether you're enticing sign-ups or boosting participation, incentives and initiatives are a crucial component of any loyalty program. But for these initiatives to really take off, you need full buy-in from your employees.
It's never been more important for your employees to be well-informed. Today, many loyalty programs are often paired with a rewards app to seamlessly bridge the gap between e-commerce and brick-and-mortar stores. Armed with this new technology, your guests and customers are coming into your business extremely well-informed about the program's initiatives and incentives. And your employees need to be more informed. 
Imagine you're a guest at a hotel. Your app has educated you about some extra rewards the loyalty program is offering to elite members this month. You walk into the hotel, and the first associate you encounter not only doesn't recognize you as an elite member – they don't even know what rewards you're talking about. Suddenly, the experience is broken. This interaction damages the guest's impression of the brand experience, and might impact their choice to return – even as a current loyalty program member. 
With Nudge, this disconnect doesn't happen. You're sharing crucial intel to your workforce in real time – but you're also monitoring knowledge retention and engagement through our analytics to ensure that every employee at every location is armed with up-to-date knowledge about the program's happenings. 
3. Nudge celebrates your program champions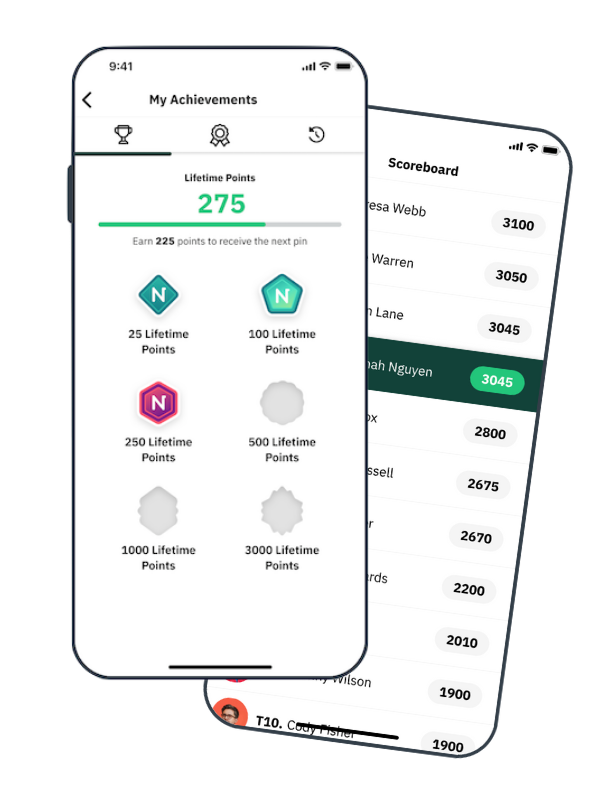 What's the best part of any loyalty program? The points! That gamification of loyalty is what truly drives customers to desired behaviors. 
Guess what: the same is true of employee performance. Nudge leverages a gamified, points-based approach to communication that keeps employees engaged and using our app, every single day. Additional recognition points and pins provide motivation for your workforce, highlighting specific contributions, lifetime achievements, and other milestones. In other words: use our points program to get your employees to sell your points program.
There's an additional benefit beyond that intrinsic motivation: Nudge's gamified system helps organizations to identify the top-performing locations and individual employees that are really promoting your loyalty program. You can reward teams that deserve recognition – and also tap into those best practices that are bringing your program to life. More on that below…
4. Nudge identifies great ideas for boosting your loyalty program – and scales them
Ah, that incredible team that just seems to have a knack for signing customers up. That employee that always knows how to make elite guests feel special. Once you've identified those star performers, how do you tap into that magic, and scale it at an organizational level? What are they saying to guests? What three words seem to resonate with customers? When in the transaction are they bringing up the program? What rewards have guests really excited this month? What, in short, is working? 
With Nudge's communication platform, great ideas don't get lost. Top performers are identified and recognized – but you can also go that step further to tap into what it is they're doing right. Topic-based forums and upward feedback channels let you crowdsource ideas and best practices from top-performing locations, and share them across the organization organically. 
—
Customer loyalty programs have a magical ability to make your customers feel like they have a unique and personal relationship with your brand. The lifetime value of that loyalty member is infinitely valuable. But to really tap into the power of your loyalty program, you have to first empower your employees with the knowledge and support they need to really shine. Nudge makes that happen.